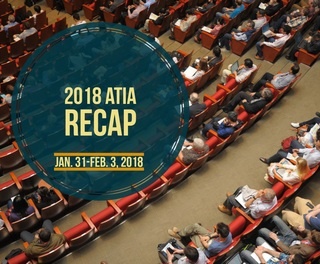 My colleague, Faye Stillman, and I had the pleasure of presenting "Ethical Considerations for Bilingual AAC Patients with Acquired Communication Disorders" at this year's Assistive Technology Industry Association (ATIA) Conference. Read on for a recap of our research and presentation.
Bilingualism is a rapidly growing prevalence throughout the United States. Looking at how we, as professionals, are treating those bilingual patients is a crucial part of our professional growth and ethical standing. This year, Faye Stillman and I led a session on the "Ethical Considerations for Bilingual AAC Patients with Acquired Communication Disorders." As Speech-Language Pathologists, we study and learn the complexity of the human brain, the aspects that must be figured out to treat those with communicative disorders, and the diverse pathways through which the brain can recover. With all of that acquired knowledge, imagine throwing in another layer of complexity: the bilingual brain. As our caseloads are now diversifying even more with bilingual patients, professionals have an ethical responsibility to study and understand the bilingual brain. In this presentation, we reached out and connected with SLPs throughout the nation and had a realization that bilingualism is no longer secluded to certain states as we once imagined; bilingualism is everywhere. From South Carolina to Illinois, and Florida to Colorado, SLPs came to our ATIA Breakout Session to learn and absorb as much information to help better their practices.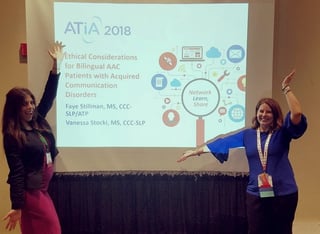 During this session, we took the opportunity to provide valuable tips and research examples regarding diagnostic and therapeutic models when it comes to treating bilingual patients; we also highlighted the importance of following our Code of Ethics. As professionals who are part of a national organization, we have the privilege to follow a set of ethical standards that were established to meet the needs of our patients. One of the largest concerns when it comes to SLPs treating bilingual patients is the lack of knowledge on the main principles of the bilingual brain. Remember, it's a new complexity that has been added to what we, as SLPs, think we already know! The bilingual brain is now a new venture filled with sociolingustic, ethnographic, and neurolinguistic characteristics that play a vital role in how SLPs diagnose and treat bilingual patients. Through this presentation, we were able to delve into those principles and determine a better understanding of our future plans of care for bilingual patients.
Professionals treating bilingual patients with communicative disorders is a growing reality. The more we can research, educate, and provide ethical knowledge on this matter, them more we can naturally improve the treatment and care of such individuals. My colleagues and I feel a responsibility to spread this knowledge to other professionals and reach patients in need throughout the nation. That is what we, as part of the Lingraphica team, are all about: helping patients. ATIA 2018 gave us a wonderful platform to be able to connect to other professionals and ultimately reach our goal of creating new and better resources for our patients.