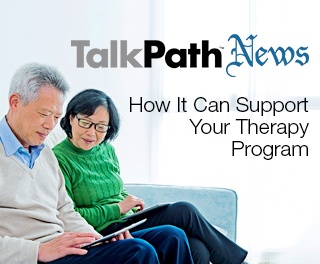 Have you heard the news? Lingraphica's specialized news reader, TalkPath News is one-year-old! In the last year we launched the platform on the Web, App Store, and Google Play and clinicians love it.
Not only is the platform a fun way to read the news, but also it's an easy way to incorporate current events into your speech-language and cognitive therapy plans. In today's post, I share eight ways clinicians can incorporate the news reader into their therapy plans.
With TalkPath News, therapists can select a current event news story from a range of categories including: National, World, Business, Education, Entertainment, Health & Lifestyle, Science & Technology and History. Using TalkPath News, you can:
Read or listen to the news story as it is reads aloud.
Follow the news article as the words are highlighted.
Answer auditory and reading comprehension questions at the end of the story.
Share the story via social media channels: Facebook, Twitter, or Pinterest.
Using the platform's features listed above, here are eight ways you can use TalkPath News to target your client's therapy goals:
Improve sustained focus and attention and topic maintenance for communicative interactions.
Improve auditory processing, auditory comprehension, and reading comprehension skills.
Improve verbal expression and word retrieval skills for functional communication.
Aim to improve your client's short-term memory and recall skills by answering comprehension questions accurately.
Use the forward and reverse buttons to review particular portions of the article's sequence and describe the events in a news story.
Ask your clients about the article and spark conversations.
Using the social media buttons located at the bottom of each story, encourage your clients to share the stories of interest with their social networks. This can also spark social media conversations and interactions.
Create an account in TalkPath Therapy and assign your clients articles from the clinical dashboard to complete HEP (Home Exercise Program) activities. In addition to the TalkPath News articles, you can also assign more than 11,500 speech, language, and cognitive exercises.
To start using TalkPath News with your clients, simply create a free account online. You can access the platform from a desktop computer or an iPad or Android tablet using the TalkPath News app. If you any questions about integrating TalkPath News into your therapy program, call our clinical team at 888-274-2742.