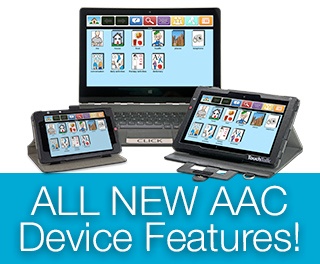 Lingraphica's communication devices are packed with tons of new features that make it easier for your clients to communicate...including a Spanish language device! After developing it for many months, we are pleased to serve a Spanish speaking audience. But the Spanish device isn't the only new feature we offer! In fact, we've expanded some of our favorite features like the whiteboard, page options, and more! Learn more about our new features below.
Spanish language: We are so excited to offer a Spanish language device featuring our Spanish accents. Now your Spanish-speaking clients can have all of the functionality of our research-backed communication devices with the language that fits their needs and lifestyle. Don't speak Spanish? Don't worry! We offer translated materials to help you run a successful trial.
Whiteboard icons: Now, your client's favorite whiteboard icons can be saved as an icon on the device. Plus, the whiteboard now features an expanded color palette so your client can draw in all the colors of the rainbow.
Remote Technical Support: SLPs and clients everywhere can rejoice! We've added remote technical support to our MiniTalk and TouchTalk communication devices so your clients can access our technical support team from anywhere. This feature is already available on our AllTalk communication device.
Page Options: If you've completed a device trial with us before, you know it can be challenging to spot a page. We enhanced the page options so you can see which icons have pages behind them and which don't.
In addition to our new features, you can expect your device trial with Lingraphica to be simple and straightforward. Our Clinical Consultant team offers detailed phone training to help you conduct a successful device trial. Plus, you are eligible for 0.8 or 2.4 CEU credits. In addition, our technical support team is available to help you handle any technical difficulties. Finally, you will have access to our knowledgeable Client Advocate and Reimbursement specialists who will keep you informed about your client's insurance coverage and paperwork.
If you are ready to try a communication device, call us today! We can ship you an English language or Spanish language devices straight to your facility.