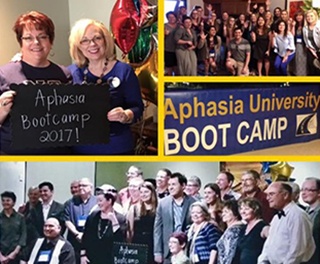 Lingraphica Clinical Consultant Brianne Kosch spent a week volunteering her time and talents at the Aphasia Recovery Connection Aphasia University Boot Camp. Read on for a summary of her experience in her own words.
At the end of March, I had the honor of volunteering at the Aphasia Recovery Connection (ARC) Aphasia University Boot Camp in Las Vegas, NV. ARC is a non-profit organization that was started in 2012 by two young stroke survivors, Christine Huggins and David Dow and their mothers, Kim Huggins and Carol Dow-Richards. ARC began as Facebook group designed to help end the isolation of aphasia and encourage individuals with aphasia and their families to learn, share, and connect with others. The ARC Facebook page has since quickly blossomed into a network of over 4,500 people with aphasia, their family members, and professionals. Strongly grounded in the Life Participation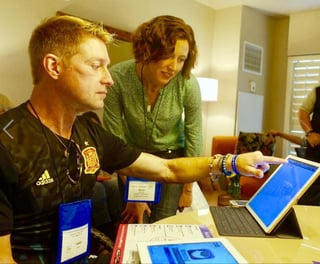 Approach to Aphasia (LPAA), ARC now hosts aphasia cruises and an annual boot camp to encourage people with aphasia and their families to participate in fun, educational, and social activities.
Aphasia University Boot Camp is a one-week educational and social program, followed up by three weeks of daily online group sessions and support. This year's boot camp attendees included 24 adults with aphasia, 24 family members, 20 student volunteers, and 12 leadership volunteers. Each day consisted of small group, educational sessions led by SLPs and other professionals, as well as Life Participation activities.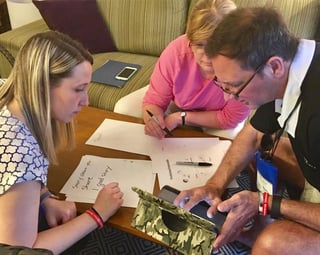 My sessions focused on using Supported Conversation for Adults with Aphasia (SCA™) techniques to enhance and encourage conversation between the individual with aphasia and their communication partners. I taught the attendees how to use writing keywords, drawing pictures, gestures, and other materials to facilitate their conversations (pictured at the right).

Other educational sessions topics included aphasia apps, scripting, Zoom training, story telling, and SMART goals. Life Participation activities included dinning out, going to shows such as Kà and LOVE, going to the Mob Museum and riding the High Roller.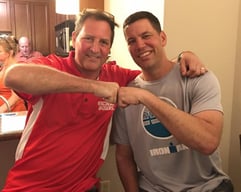 My favorite part about Aphasia University Boot Camp was watching some of the attendees with aphasia--who were quiet and isolated at the start of the week--break out of their shells, make friends, and have a good time. It's so rewarding to see this transformation and to be a part of it! Events like this let people with aphasia and their families know that they are not alone, and that life is much bigger than the aphasia.
The events page on the ARC website contains information on events for SLPs and their clients. Be sure to share the ARC website with your clients who may be interested in connecting with others with aphasia!