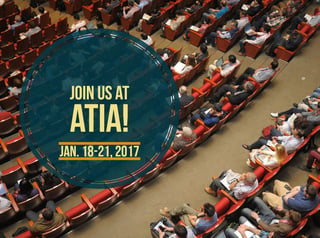 Two members of the Lingraphica staff presented at the Assistive Technology Industry Association (ATIA) 2017 Conference in January. Faye Stillman, MS, CCC-SLP/ATP, Continuing Education Manager, shared her findings on the topic of Establishing Virtual Connections for PWAs Using Online Communities and LPAA through a poster session; while Lisa Haynes, MS, CCC-SLP, Clinical Affairs Manager, spoke about Using Technology to Treat and Manage Chronic Aphasia. Below is a recap of their presentations.
Faye Stillman: Establishing Virtual Connections for PWAs Using Online Communities and LPAA
The Life Participation Approach to Aphasia (LPAA) places the life concerns of those living with aphasia at the center of all decision-making. The aim of intervention is to return to an active life, like the one pre-aphasia. A life goal may be to return to participation in the local community, including a social media community. In this study, we invited Persons with Aphasia (PWAs) and their spouses to join a closed Facebook group: TalkPath News Group.
The goal of the study was to see if adults with aphasia could benefit from online communication by using a free news app designed specifically for PWAs, along with the ability to react, comment, participate in polls, and/or post photos/videos on a closed Facebook group page.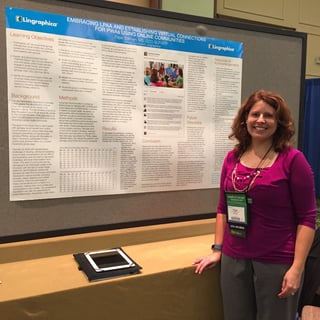 Using the Communication Confidence Rating Scale for Aphasia (RIC CCRSA) and a few addendum CCRSA format questions in relation to social media, we asked our participants to provide information about their confidence communicating and the impact this has on their connection with others. These participants received instruction and education on the use of a free news app specialized for PWAs, called TalkPath News. We utilized the platform--with the help of the PWAs, SLP, and/or Caregiver--to post and share current event news stories of interest, as a springboard of conversation onto a closed Facebook group. After participating in the group for four weeks, participants re-took the RIC-CCRSA and addendum questions, as well as providing anecdotal information about their experience.
Their responses concluded that 75% of the participants rated their communication confidence higher at the end of the four-week trial period than they did at the beginning. We are continuing to grow our Facebook community and invite clinicians, caregivers, and PWAs to join us in sharing your opinions on news topics, aphasia, family, friends, inspiration, etc. The link to join is: https://www.facebook.com/groups/495007100691657/

Lisa Haynes: Using Technology to Treat and Manage Chronic Aphasia
Managing chronic communication disorders involves a long-term plan involving the right professionals, therapy tools, and caregivers/support system, as well as time to implement the plan, monitor progress, and modify the plan at the right moment to capture progress or a decline. Lining up each component of these much-needed resources for long-term management can be, and often is, a time-consuming task that can break down at any point in the management cycle addressed in this session. This breakdown has negative repercussions for the person with the communication disorder and may lead to further impairment, depression, loss of relationships, and increased medical issues due to unreliable communication between patient and physician.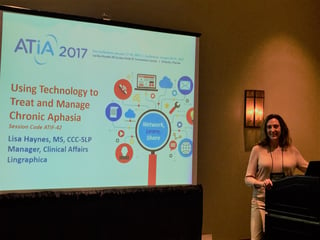 The type of service delivered (i.e., rehabilitation vs. habilitation) tends to be cyclical -- typically due to financial resources and/or insurance reimbursement. This session reviewed each step of the cycle and address how an online therapy tool can enhance the service delivery of each stage. This review also showed how to maximize therapy despite financial limitations for both the client and the provider.
Although tracking data for the purposes of productivity and return on investment are crucial to delivering therapy services, the quality of the content must not be overlooked. During this session, we discussed Evidence Based Practice through software tools and how to consider principles such as the principles of neuroplasticity and proven therapy techniques. Other common practices that were addressed included:
How to find the right exercises/tasks in software to target NOMS levels
How to create a homework regimen that a client will dependably follow
How to train caregivers/care extenders to facilitate a plan that they enjoy doing and find reinforcing
By the end of this session, audience members were able to envision working with online tools that will provide quality care and comprehensive management that will yield results throughout the long-term plan of care.