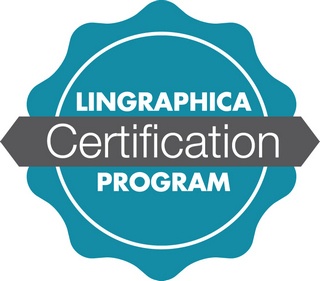 In response to the many SLPs who have told Lingraphica that they want to know our devices, apps, and therapy tools in a more in-depth way, we're proud to introduce our new initiative to help achieve that goal: the Lingraphica Certification Program!
Like anything else, technology changes all the time. Adapting to and keeping up with the latest technology can be a full-time job. But if you are comfortable with at least one line of products or services you like, you have a good chance at success. So we've created a FREE program in which you become more than proficient with our technologies—you become a Certified Lingraphica Technology Specialist, while earning 1.8 or 3.4 ASHA-approved CEUs! We even provide an iPad and Lingraphica AAC device for you to use during your training; as long as you stay enrolled in our monthly webinars that follow the program's completion, you may continue to use these devices with your clients. Here is the program in three easy steps.
Step 1
The Lingraphica Certification Program (LCP) starts out with an introductory webinar, Lingraphica Technologies for Your Plan of Care. This webinar introduces you to all of Lingraphica's technology offerings and prepares you for the Certification Program.
Step 2
After committing to and enrolling in the program, you will take four recorded webinar courses at your own pace. These courses include a:
Speech-Generating Devices Webinar – Learn the ins, outs, and how-tos of Lingraphica's AAC devices: the AllTalk™, TouchTalk™, and MiniTalk™. Become a confident user of the device in order to train your clients who might benefit from an AAC device.
TalkPath™ Therapy Webinar

–

Dive into our online speech therapy platform. The platform is easy enough for your clients to practice independently in a number of areas (i.e., speech, reading, writing, cognition), yet sophisticated enough for you to b

uild custom therapy programs, functional maintenance plans, and restorative

nursing programs for your clients.

TalkPath News Webinar

– Understand the difficulties of watching the news from the perspective of someone with aphasia.

TalkPath News is designed to eliminate frustration and make the news gathering process easy.

TalkPath News

delivers stories every weekday across a variety of sections (i.e., national,

world, entertainment) and enables viewers to follow along with highlighted text, which is also spoken aloud.

QuickAssess Device Evaluation Tool Webinar

– Get familiar with QuickAssess,

Lingraphica's Device Assessment Tool. It is a free iPad®

app that helps you quickly

determine whether a Lingraphica device is a good fit for your client.
Step 3
Now it's time to apply what you have learned into your practice. In this segment of the program, participants will complete two self-study courses:
Conduct

a free trial with a client using one of our AAC devices

Incorporate the TalkPath Therapy platform into the plan of care for one of your clients
After completing the self-study courses, you're a Certified Lingraphica Technology Specialist!
To maintain your certification and the free use of our equipiment, Specialists must attend regular monthly webinars and provide feedback on their client experiences. As a Specialist, you will also help shape Lingraphica's future technology developments. Click here for a one-page download of this program to review or share with a colleague.
Are YOU ready to become a Certified Lingraphica Technology Specialist? Click here to get started with Step 1!