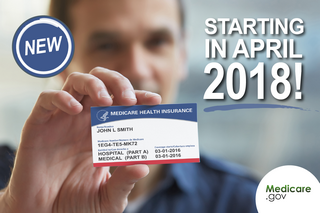 Did you know that Medicare is issuing new Medical ID cards to all beneficiaries starting on April 1, 2018? Medicare beneficiaries or caregivers of a Medicare beneficiary will find the following information helpful in preparation for the transition to new Medicare cards.
If you are an SLP or clinician with Medicare clients, this information will be very helpful for them in the upcoming months. Please feel free to share it. At the bottom of this blog, you will find instructions about uploading Medicare cards/insurance cards to Lingraphica's intake form at the start of a device trial. We hope this information helps both you and your clients transition smoothly with this Medicare change.
Q: Why is Medicare issuing new Medicare cards to its beneficiaries?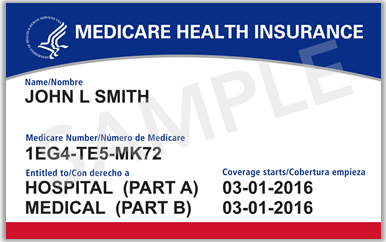 A: Medicare is taking this step to protect its beneficiaries from fraudulent use of Social Security Numbers which can lead to identity theft and illegal use of Medicare benefits.
Q: What is the difference between the old and new Medicare cards?
A: Old Cards contain the Medicare beneficiary's Social Security Number, gender and a signature line. The new Medicare cards will NOT have a SSN, gender or signature line. However, the main difference is the ID number or Medicare Beneficiary Identifier (MBI). It is an eleven (11) digit non-intelligent, randomly selected, computer generated number made up of a combination of alpha numeric characters which have no significance other than to whom it belongs.
Q: When will I be receiving my new Medicare card?
A: Medicare will be issuing new Medicare cards starting on April 1, 2018, by geographic region in seven stages. All Medicare beneficiaries should have their new card by April 16, 2019. See the diagram below to find the assigned time for your location.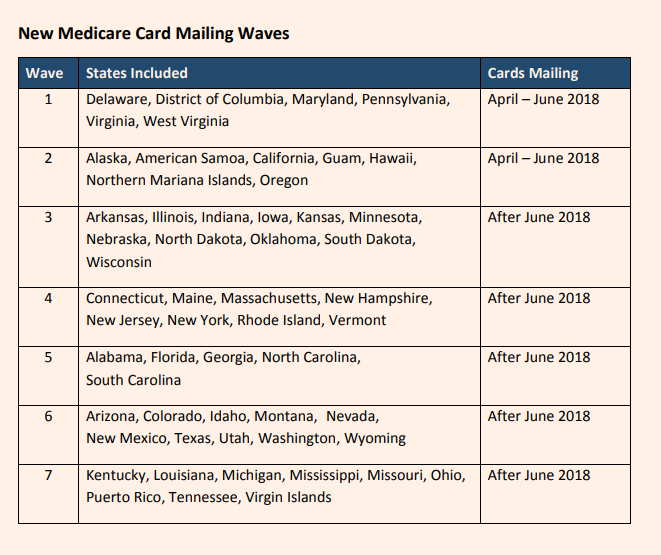 Q: Does the new Medicare Card mean that my benefits have changed?
A: No. The appearance of the Medicare Card has changed, but your benefits will remain the same.
Q: If I have a spouse or dependent that has been afforded benefits by Medicare, will they have the same MBI (ID Number) that I do?
A: No. Spouses or dependents who may have had similar ID numbers in the past will each get their own MBI (ID Number).
Q: When can I start using my new Medicare Card?
A: Medicare beneficiaries that have received their cards can use them upon receipt. If you have not received your new Medicare card and are receiving medical care, please be sure to continue using your old Medicare card until the new Medicare card has arrived.
Q: Do I need to protect my Medicare Beneficiary Identifier (MBI or ID #)?
A: Yes! The MBI is confidential just like your Social Security Number and your old Medicare ID number (HICN). It is personally identifiable information that should only be used for Medicare. Beware of anyone who contacts you about your new Medicare card. Medicare will never ask you to give them personal or private information to get your new Medicare Number and card.
Steps to Take to Upload a Client's Medicare/Insurance Card to Lingraphica's Intake Form
When completing our eligibility check form to start a trial, you can upload a photo or scan of your client's insurance card. This helps to eliminate an errors when keying in numbers. Here are the steps that our system will walk you through to upload a card:
1) When you get to the "Primary Insurance Information" section, select "Yes" to the question, "Would you like to upload a photo or scan of your patient's primary insurance card?"
2) Click the "Select Files" button to choose the photo or PDF file from your computer or drag the file from your folder to the gray area.
3) Once the file has uploaded, you will see it listed below the gray area.
4) If the patient has a secondary insurance and you would like to upload copies of that card as well, please repeat these steps in the "Secondary Insurance Information" section.
If you need or want more information about this transition, please visit: https://www.cms.gov/Medicare/New-Medicare-Card/ or call 1-800-MEDICARE (1-800-633-4227).