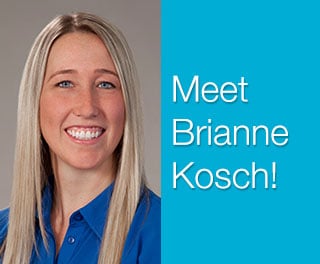 Brianne is a New Jersey native and spends a lot of time in our home office providing clinical support to our team and our Aphasia Users Group. When she's not in Princeton, NJ, she's on the road connecting and meeting speech-language pathologists (SLPs), aphasia advocates, and caregivers. In her free time, she loves to spend time with her dog, Jeffrey, and find new ways to talk about aphasia. Don't miss this special Q&A with Brianne!
1. You're a native of the northeast, but you love to travel! Tell us your favorite place you've visited.
My favorite place I've ever traveled to is Cape Town, South Africa. I have been there twice, staying each time for a little over one month. It is an extremely beautiful area with a very rich culture.
2. What enticed you to become a speech-language pathologist?
When I was in high school, I had a friend who was severely injured in a very bad car accident. She was in a coma for a few months and had extensive brain damage. When she first came out of her coma, and for many months after, she could not walk or talk. During the next year, my high school watched her make remarkable improvements. At her sweet 16 birthday party, she gave a speech. She said of all the wonderful people that helped her, she was most appreciative of her speech therapist for helping her speak again. This really made an impression on me. At the time, I was volunteering at a children's hospital where they let me shadow OTs and PTs. After high school, I was hoping to become a PT or an OT. Listening to my friend's speech and talking with her more about her journey, I decided that I wanted to be a speech therapist so I could help others too. I began shadowing speech therapists at the same facility and loved what I saw and learned. And the rest is history.
3. You've traveled to see speech-language pathologists (SLP) all over the United States. What unites this industry?
Every SLP I meet, loves what he or she does, has a passion for helping others, and is extremely dedicated to the people he or she serves.
4. You work closely with a lot of aphasia groups. Can you tell us more about your involvement?
One of my favorite parts of my job is getting to meet and work with so many amazing individuals with aphasia and their caregiver. I get to visit and interact with aphasia groups and centers across the United States. My main objective when working with these individuals and groups is to provide them with additional resources to help them on their aphasia journey. It also gives me a chance to hear their voices and find out what they need. Many times I take this feedback and share it with my colleagues to be incorporated into future products, updates, etc. In March, I'm joining Aphasia Recovery Connection for a seven-day cruise with individuals with aphasia and their caregivers. It will be a lot of fun!
5. What's the most misunderstood thing about aphasia?
I have been seeing more individuals in their 20s, 30s, and 40s who've survived strokes and now have aphasia. I think certainly many people think that strokes and aphasia only happen to older or geriatric individuals. Secondly, in general many people do not even know what aphasia is. Many may automatically think that because the individual cannot speak, he or she is also unable to understand, think, learn, etc. However, we know very well that this is not the case.
6. How do we continue raising awareness of aphasia?
The best way to raise awareness of aphasia it to talk about it! Whenever I meet a new person who asks what I do, I make sure that I include a description of aphasia. I also frequently post and repost information about aphasia on my social media accounts. This will often open up conversation about aphasia and get people asking me "wait, what is aphasia?"
7. If you were to explain AAC to someone who'd never heard the word before, how would you describe it?
I first tell them what AAC stands for: Augmentative and Alternative Communication. AAC is an umbrella term that includes anything a person who has lost the ability to speak naturally uses to communicate with others. For example, a person may have a book of pictures they use to communicate their wants or needs, or they may have a computer that speaks what they want to communicate when icons are selected. Many times after I explain high-tech AAC, people say, "Oh, so a device like Stephen Hawking's." Yes! Thanks to media coverage on people such as Stephen Hawking, people are being exposed more to AAC.
To connect with Brianne, please call our team at 888-274-2742 or click the button below!