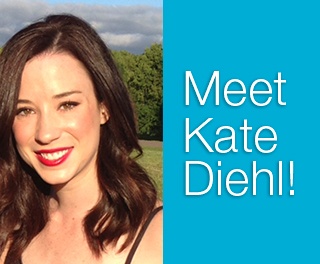 We are pleased to add to our growing Clinical Consultant team! Speech-language pathologist, Kate Diehl, is joining our team as our Boston, Massachusetts consultant. In addition to her love for augmentative and alternative communication devices, Kate loves to do karaoke (we heard she sings a mean version of "I Wanna Dance With Somebody") and tell jokes. She's the proud owner of a ferocious Puggle, and goes to see every single movie that comes out in theaters. Learn more about Kate in our question and answer blog below!
How long have you been a practicing SLP?
I've been practicing for about 6 years.
What made you want to become an SLP?
I'm naturally an almost obsessive "helper," and I've always been drawn to jobs that are people-centered. A lover of languages, my undergraduate major was Linguistics; however, I did not want to be a professor or researcher. In the end, I combined all of that together and went into Speech-Language Pathology!
If you could pick one word to describe aphasia, what would it be and why?
I would use maybe an unexpected word to describe aphasia- "hope." There is the potential for so much improvement and there are so many ways to augment and support the communication of a person with aphasia!
What is the most exciting thing about speech-generating devices?
Speech-generating devices are so exciting because they can- and should- be totally customized and personalized for each individual user. The outcome is a functional and motivating system that acts as not only voice output for a person, but as a model for language production, a built-in system of visual cues, and a way to EMPOWER a person who needs communicative support.
If you could vacation anywhere in the world, where would you go?
I spent a little bit of time in Sweden and totally loved it- the people, the culture, the beauty, the quirkiness of it all. I would love to explore all of the Scandinavian countries and soak up even more of that!
If you live in or around the Boston area and would like to meet with Kate, please fill out the form below to request an in-service or a telephone call. Kate is providing full device trial training and in-service presentations at no cost.