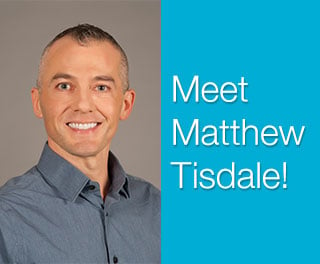 Meet Matthew Tisdale, MA, CCC-SLP, the newest member of our growing Clinical Consultant team! Matthew not only recently joined our team, he also recently moved to Houston, Texas, where he spends much of his free time exploring the Lone Star State!
When he's not advising other SLPs on the merits of augmentative and alternative communication devices, he enjoys music, singing, playing and watching tennis, and meeting new people. Matthew is a proclaimed Auburn football fan, but we'll see what tune he's singing after a few more months living in the land of the Aggies! Learn more about Matthew in our question and answer blog below!
How long have you been a practicing SLP?
I graduated from San Diego State University in 2010, so a little over 6 years.
What made you want to become an SLP?
I was first introduced to the field of speech-language pathology as a patient. As an undergraduate at Auburn University I developed a hemorrhagic polyp on my left vocal fold. I was forced to stop singing for several months and eventually underwent surgery at Vanderbilt. This experience in my life spurred me onward to graduate school. I completed my degree in speech, language, and hearing sciences with a mission to help others as I had been helped. My first clinical position as a CFY was at the Scripps Voice and Swallowing Center in San Diego, CA.
If you could pick one word to describe aphasia what would it be and why?
I would pick "voice". While the diagnosis of aphasia does not necessarily cause a vocal pathology, it does affect the "voice" of the patient! AAC, when appropriate, is a modality to help the individual regain their "voice"
What's the most exciting thing about speech-generating devices?
The evolution of technology is opening doors for portability, style, and access to language for those impacted by aphasia!
If you could vacation anywhere in the world where would you go?
I love large cities and exploring new cultures. Places on my must visit list are Mexico City, Rio De Janeiro, Tokyo, and Dubai. I also love the beach, so basking in the sun along the Mediterranean anywhere would be right up my ally.
To connect with Matthew, please call our team at 888-274-2742 or click the button below!