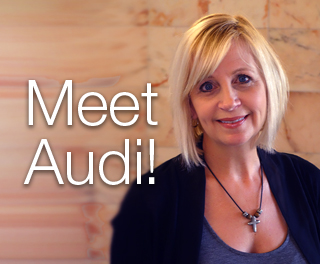 Audi Cathcart, MA, CCC-SLP, is Lingraphica's Senior Clinical Consultant and a speech language pathologist! With more than 30 years of experience treating patients and clients in the VA, hospitals, clinics, and private practice, Audi is an expert in speech improvement and language recovery.
Today, she works closely with our clinical and product development teams to create and improve our resources and tools for adults with aphasia. We recently quizzed her about her passions, interests, and favorite features on a Lingraphica device. Enjoy!
1. You live in Indiana, tell us something about your state or city that we might not know! - Indianapolis hosts the Indy 500 and the Brickyard 400.
Not only is the Indy 500 the largest single-day sporting event in the world, the Brickyard 400 comes in second.
2. What do you like to do for fun?
I like to play tennis, tennis, and more tennis.
3. Why did you become a speech-language pathologist (SLP)?
I became an SLP because I had no direction in life! First, I decided not to go to college and make my way to the top on experience alone. After a year, I realized that wouldn't work so I quit my job, broke up with my boyfriend and started college all in the same day. I took electives for the first two years and finally, my counselor said, "You have to choose a major!" Once I took my first speech-pathology class, I was hooked. My love of communication and of "old people" made Speech Language Pathology a perfect fit for me.
4. How long have you been practicing speech therapy?
30+ years (I'm old).
5. Tell us about your connection to aphasia or stroke.
My first patients with aphasia/stroke were veterans. I loved every one of them and still remember many of their names 25+ years later because of their determination to fight to improve. It was their nature as veterans. Then, the unthinkable happened, and my sweet mother had a stroke that resulted in aphasia. Although I always tried to think of things from the perspective of a patient's family, having my own perspective as a daughter of a person with aphasia (PWA) takes my understanding to a new level.
6. Do you have any advice for an SLP who's never used a high-tech AAC device with a client before?
Yes. Stay in communication mode. Instead of using the device to find out what icons they can find, use it as a communication tool, a therapy tool, and a way to connect. Stay in teaching mode and give your patient just enough support to be successful in whatever you're doing and set realistic expectations. Remember that using AAC can help natural speech to improve! I wrote some tips in this blog post here.
7. You're a big believer in functional communication. Can you tell us what this means for someone using AAC?
Functional communication happens when we focus on being personally relevant and contextual. It means communicating things that are important to the patient – which so often means just connecting with others, not just getting needs met. Functional communication happens when communication affects your relationships, your feelings, and your circumstances. My colleague, Faye, shared more tips about this on the blog here.
8. What's your favorite feature of a Lingraphica device? Why is it your favorite?
Oh gosh. Where do I start? My favorite feature is really not a feature. The ease of customizing the device is what sold me on the Lingraphica. You can make the device relevant to any type of patient…high level – low level, aphasic – dysarthric – oral, head, and neck cancer. Anyone can use the device because it is so easy!
9. How can an SLP connect with you?
Call me or text me at 317-927-8697 or email me. SLPs can also call me at Lingraphica's toll-free number at 888-274-2742. I love brainstorming with SLPs!