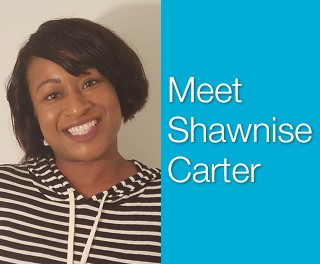 Meet Shawnise Carter, MS, CCC-SLP, the newest member of our growing Clinical Consultant team! Shawnise is our representative for the Chicago area. She is very proud that the Cubs just won the World Series and broke their 108 year curse. We recently sat down with Shawnise to learn more about her background and interests.
How long have you been a practicing SLP?
I have been a practicing SLP for the last 12 years.
What made you want to become an SLP?
When I was a high school senior my best friend's mother sat all of the "graduates to be" down and asked us if we knew what we wanted to be and consequently what we would major in. She then told us to research speech pathology. So I took that conversation to heart and explored the wonderful world of communication disorders. Since I've always been a social person and have always helped individuals- speech pathology ended up being a great fit! I explored the field and fell in love with the opportunity to make great changes in people's lives.
If you could pick one word to describe aphasia what would it be and why?
Creative. When an individual loses the ability to communicate in the only capacity that they've known, it causes one to learn new ways to express one's thoughts, wants, and needs. This person has to be very creative. For some individuals this can mean writing instead of verbalizing or gesturing instead of speaking. It is a very determined desire to communicate in spite of a major loss.
What's the most exciting thing about speech-generating devices?
SGDs give hope to so many people who have suffered from CVAs. It allows them to communicate and be a part of social and emotional interactions again. They can suddenly be included in the conversation and as they become more familiar with the device, their personality comes through as well. As an SLP who has worked with individuals with SGDs, it is very rewarding to witness the change that takes place as these individuals regain their communication skills.
If you could vacation anywhere in the world where would you go?
Ibiza, Spain. It seems like a place that would be architecturally beautiful and amazingly rich in culture!
To connect with Shawnise, please call our team at 888-274-2742 or click the button below!