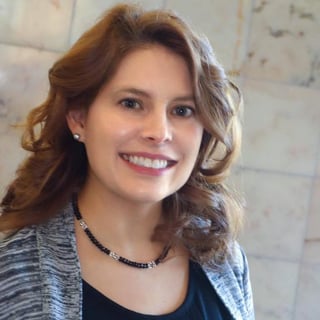 You may remember meeting Faye Stillman in 2014, when she came on board with Lingraphica as a Clinical Consultant. It's a brand new year, and Faye has a brand new title and role: Continuing Education Manager! Read on to learn a little bit about Faye and her new responsibilities.
Tell us a little bit about you—what do you like to do in your spare time and what are a few of your favorite things?
My favorite things to do are: spending time making fun memories with my family and friends, traveling to new places (including local ones), reading, and running. I'm an Ambassador for CharityMiles, and I love logging in miles to support my favorite charities, whether running, walking, or bike riding with my friends/family/dog or by myself.
You came to Lingraphica as a Clinical Consultant. What made you become an SLP?
I had a friend in college who suddenly became unresponsive, due to Guillain-Barre, at age 18. She remembers being on a ventilator, locked-in (unable to move any part of her body), and feeling uncomfortably hot. The nurses continued to put more-and-more blankets on her. She remembers wishing that there was a way that she could tell them that she was hot, not cold. She began to recover and was seen by the SLP. When her parents came to see her later that day, she looked at them and said, "I can talk." The SLP had given her a Passy-Muir valve, allowing her to verbalize again for the first time since her illness. Her story not only inspired me to become an SLP, but an SLP who provides AAC, too.
You have recently transitioned into a new role at Lingraphica. Tell us what you'll be doing as the Continuing Education Coordinator.
As the new CE Manager for Lingraphica, I will be working closely with ASHA and my SLP colleagues to develop new, relevant continuing education courses, in-services, and webinars to add to Lingraphica's current repertoire of free CEU opportunities. I will also work to ensure that our ASHA CEU records and reporting systems are up-to-date for crediting the completion of these courses.
What are you most looking forward to in your new position?
I'm looking forward to researching, exploring, and developing new topic ideas into courses that will be beneficial for SLPs and ultimately for our clients with communication disorders.
What are your hopes and goals for the CEU program at Lingraphica?
My hope and goal is to continue to grow the number and variety of free CE opportunities that Lingraphica offers to clinicians, including opportunities that would benefit the entire rehab team.
How can an SLP connect with Lingraphica if they are interested in obtaining CEUs?
An SLP can connect with Lingraphica to explore the variety of free CE opportunities, including free on-site in-services, as well as live and recorded webinars by visiting our website:

SLPs may also contact me directly at fstillman@lingraphica.com or 386-243-9241. I'm happy to answer any questions and to receive feedback and/or topic ideas for new courses that an SLP would like to see and learn more about.