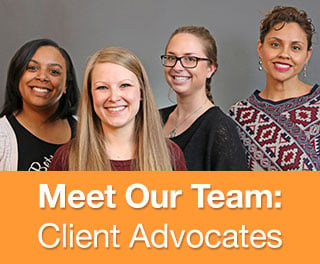 Here at Lingraphica, we have a dedicated group of professionals who fulfill the role of Client Advocates. They work hard each day to deliver excellent customer service over the phone; answer questions from clients, caregivers, and medical professionals; and work with insurance companies to ensure that clients in need of AAC devices receive them in a timely fashion. We're pleased to introduce you to Lingraphica's Client Advocates!

Jennifer Gunderman
Jennifer joined Lingraphica in 2016. She brings more than 3 years of experience in the durable medical equipment field. Jennifer has helped patients, both adult and pediatric, acquire medical equipment necessary to ensure the very best quality of life. She holds a BS from East Stroudsburg University of Pennsylvania.

Monique McKenzie
Monique joined Lingraphica in 2016. She brings several years of experience in health care, managed care, and durable medical equipment. Monique previously assisted patients and nurses as a care manager for a durable medical equipment company. She holds a BA in psychology from Rider University.

Johanna Gaughan
Johanna joined Lingraphica in 2017. She brings more than 2 years of experience in durable medical equipment billing and customer service. Johanna has previously worked several customer service jobs in various fields of service in her native country of Sweden. She holds a BS in Biology from Rutgers University.

Paola Cevallos
Paola joined Lingraphica in 2017. With over 7 years in customer relationship management, Paola strives to fully understand patient needs in order to provide the right solutions. She holds a BS from Kean University and a mini-MBA from Rutgers University in Digital Marketing.
If you have any questions concerning a device trial or purchase, insurance qualifications, or the process of getting a device, please contact one of our Client Advocates!