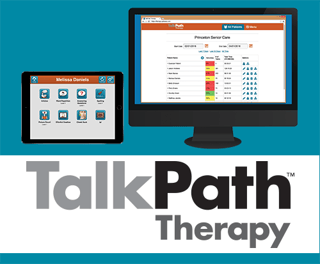 Lingraphica made some exciting updates and additions to our popular online therapy platform, TalkPath Therapy! Whether you are already an avid user of TalkPath Therapy or are brand news to this tool, you'll want to read on to find out what our latest version can do for you and your clients.
What is TalkPath Therapy?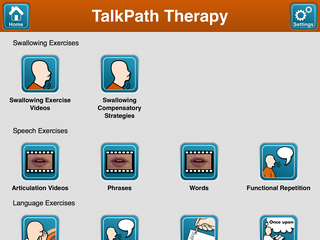 For those of you who have never heard of TalkPath Therapy, it is a FREE task-based, online therapy solution that features more than 13,500 language and cognitive exercises. The platform is easy enough for clients to use independently yet sophisticated enough that clinicians can create custom therapy plans for their clients. The platform's exercises are available at various levels of difficulty, so clinicians can ensure they are targeting a user's specific speech, language, and cognitive needs. As a clinician, you are able to assign "homework" exercises from the platform as well as log into your client's record to see what exercises have been completed and at what level of success.
What is "New and Improved" with this version?
This version of TalkPath Therapy includes 2,500 new exercises for clients to use on their own or in therapy with you! As a clinician, you can use the platform's advanced reporting capabilities to make adjustments to a client's therapy plan to fit his/her individual needs. Also new to TalkPath Therapy, the platform now features video playback so clients can record themselves as they practice exercises and play the video back to check for accuracy. NOTE: The video recording and playback feature is only available in the iPad® app.
We've also expanded the roles and reporting capabilities for organizations and/or facilities. Now, entire speech departments—individual SLPs and managers—can use a single system and grant access to various levels of detailed reports. If you're interested in this enterprise edition of TalkPath Therapy, simply call us at 877-969-2420 and request a demo.
This sounds great! How can I access TalkPath Therapy?

TalkPath Therapy is accessible in multiple ways: online or offline from the TalkPath Therapy app on the iPad®, or online from a desktop or laptop computer. Plus, the platform is 100% HIPAA compliant.
At Lingraphica, we strive to provide the best possible service and products to the people who need them—speech-language pathologists and clients who have aphasia or other communication disorders. We regularly seek feedback and implement the changes that we can to give our valued partners and clients what they'd like to see as we advance our technology offerings. To that end, we have updated and upgraded TalkPath Therapy to give you and your clients a better therapy experience.
It's easy to get started. Visit talkpaththerapy.com to create a free account, or download the TalkPath Therapy app from the App Store.
Ready to get started? Create a free account today!