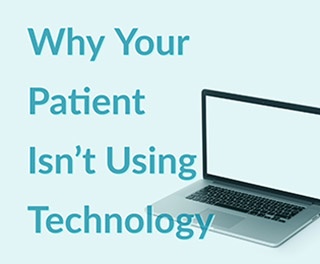 If you have patients who are hesitant to use an AAC device or have an AAC device but don't use it, this blog post may help explain why the resistance exists, and more importantly, what you can do to change it.
A few months ago, while working on a presentation about using technology for people with chronic aphasia, my colleague and friend, Dr. Richard Steele, reminded me to include information about patient usability. I was thankful for the suggestion because the presentation that I had written up to that point only addressed different types of technology that Lingraphica has to offer for people with chronic aphasia. I had not thought about presenting information pertaining to what makes the technology usable for a patient and the variables to consider when pairing technology to a patient's needs. Inside the walls of Lingraphica, this is an everyday topic. We're always talking about how to make a language application or therapy software easier to use, what type of protective case is needed for someone with hemiparesis, or how to make tech support more user friendly. I didn't think about moving these everyday topics from the walls of the office to the audience of Speech-Language Pathologists, but Dr. Steele made a very good suggestion, and it was a topic well received by the attendees at the conference.
If you have ever used technology with a patient and made the observation that your patient either cannot or will not use it, then you have encountered a case of patient usability, or, I should say, patient un-usability. The most difficult piece of information to figure out is why your patient isn't using it or cannot use it. The answer or answers usually pertain to one or more of these three things: the hardware, the software, and/or support or training. The following are some basic ideas and tips for you to guide you through the investigation of why your patient isn't or cannot use a particular piece of technology.
Hardware
Let's start with the hardware. Whether you are considering a speech-generating device or therapy software for a home program, first understand what hardware the patient and caregiver currently use, whether at home or outside of the home. If they do not use a desktop, laptop, tablet, or phone, then start with a tablet/iPad and understand that the caregiver will require just as much training (or more) than the patient. The next thing about hardware to address is the screen size and weight. If your patient uses the hardware for a therapy home program and will not need to go out in the community with it, then a larger screen such as on a desktop or laptop will work just fine. If your patient needs a speech-generating device that is portable, then try one or more sizes in order to address physical mobility along with adequate screen space for a number of icons or to accommodate the right size of icons. Screen sensitivity is also very important when using a touch screen. If the screen does not consistently respond to your patient's touch, try a stylus. A stylus can also improve the accuracy of icon selection with compromised fine motor skills. My favorite tip to share about hardware is this: If your patient isn't responding positively to a device, try a larger screen. This tactic seems to work best with those who have comprehension and/or cognitive challenges.
Program
Once your hardware usability issues have been solved, next evaluate the program you would like to use. Whether introducing a speech-generating device or therapy software, understand exactly what your patient needs the program to do. The right feedback systems are a must for a program to be usable. Projecting images, click sounds, speech output at the right loudness and speaking rate, and the flexibility to turn features on or off are all very important features for positive usability. In addition, a simple user interface may be all you need for a program to be embraced by a patient. We have learned that a good user interface for people with aphasia means having a simple layout with large, easy-to-read buttons and button behaviors that make sense to a person with aphasia.
Training and Support
Another important piece of making technology usable is to provide training and support, no matter who is in need of it. For SLPs using Lingraphica technologies, we offer ASHA CEU courses at no charge and clinical consultation. For patients and caregivers using Lingraphica speech-generating devices, we offer a training program called Achieve Communication Excellence (ACE) with a live, remote instructor and recorded instructional videos on a website (ace.aphasia.com). SLPs might also find value in ACE if they are unfamiliar with Lingraphica devices or need a refresher course. In addition, for anyone who requires training/support, Lingraphica has an amazing staff trained to communicate with people with aphasia whether communicating toll-free by phone (888-274-2742), live chat, or instant messaging through a speech-generating device.
If you've found these tips for working with patients who are resistant to technology helpful, I encourage you to consider a new webinar from Lingraphica that offers technology clinical application through a half-hour ASHA CEU course. To take the "Lingraphica Technologies for Your Plan of Care" course, click the link below.