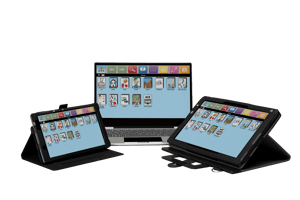 Did you know nearly half of the 800,000 people diagnosed with aphasia annually will never fully recover functional communication? In a recent whitepaper, Aphasia Access estimates that as many as 2.5 million Americans currently live with aphasia. This is a staggering number of individuals struggling with daily communication and based on other variables — fatigue, comorbidity, and stress — are susceptible to frequent communication breakdowns. As speech-language pathologists (SLPs), our job is to assist with daily communication by arming individuals with tools that will help them augment or replace verbal speech.
One such option for dealing with communication breakdowns is an augmentative and alternative communication device (AAC). AAC devices are fast and reliable communication tools with nearly an endless supplies of vocabulary options. Despite the vast vocabulary options, an AAC device requires customization for each user.
At Lingraphica we work to ensure the device is an appropriate fit for the individual by assessing the AAC device's clinical relevance as it pertains to the user's speech, language, and cognitive needs. While some clinicians think of devices as an alternative solution for speech; many devices supplement speech and help individuals build phrases to functionally communicate. We encourage SLPs to consider the following three things:
1. Personalize it!
Every AAC device that goes out Lingraphica's door is personalized to the individual. This means, that we ask for vital information about the individual's lifestyle upfront so when he or she receives the device, it's fully charged and ready to go. The icons, settings, and phrases are all tailored to the unique speech and language needs of the user.
2. Set Expectations
Setting the expectation level for what an AAC device can do is important. Part of setting expectations is recognizing that communication is a balancing act. Some times saying, "I love you" is more important than asking for a glass of water.
In fact, communication needs cover a broad spectrum of areas. As such, Lingraphica AAC devices are used as augmentative tools, not simply alternative tools. They can be used to spark and ignite communication in the home, or in public. In my trainings, I've found that no one AAC device is the same…I like to tell the families, caregivers, and SLPs I work with what appropriate expectations for the device and the user should be before they place the order.
3. AAC devices are not a one-size-fits-all solution
We say this a lot at Lingraphica…because it's TRUE! For one, we offer three different-sized devices to cover all the needs of users. While each device has its advantages, SLPs can rest easy knowing that the same functionality is present on all of them.
If you think an AAC device might help your client, call Lingraphica. We can help you try a device for free to see if it's a good fit for your lifestyle. Call us at 888-274-2742 or click the button below!