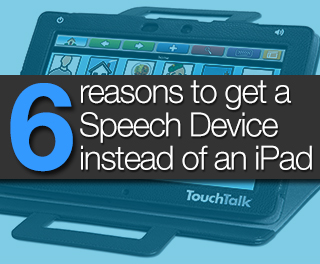 We're big fans of augmentative and alternative communication (AAC). Whether it's a low-tech or high-tech solution, we think everyone should know about AAC!
At Lingraphica, we specialize in high-tech AAC devices for adults with aphasia and verbal apraxia. As such, we are often asked why someone facing a communication disorder should consider the use of an AAC device instead of an Apple iPad or another tablet device. While we recognize the iPad is an option for some, the benefits of a dedicated AAC device are unique and not easily dismissed.
Here are six things to consider when deciding between an AAC device and iPad for your client's or loved one's communication needs.
Dedicated device: A Lingraphica AAC device is 100 percent dedicated to the use of speech generation. Its sole purpose is to turn on, create sentences and phrases, and supplement an individual's speech. It cannot access outside programs or functions. For someone with a brain injury, this easy-to-use interface is simple enough to access and use on a daily basis. There is no confusion about which button or application to push because the program opens directly to a dedicated language system.
Customizable: A Lingraphica AAC device is 100 percent customizable. With more than 8,000 words and phrases, and the ability to create new icons, no one user's device is identical. Every device is unique to a user's communication needs. For example, device user, Joe could use his device to create icons and phrases to communicate specific information about his grandchildren. While, device user, Jane could categorize her icons to communicate information about her medications and doctor's appointments. This detailed level of customization and the ability to switch between different types of message formulation makes this a one-of-a-kind device. While an iPad would have various AAC applications available to each user, the app's functionality is not multipurpose. Therefore, iPad users would be required to download and use multiple apps to achieve the detail of a single page on an AAC device.
Projection: The content and structure of Lingraphica's AAC devices

are also supported by 30 years of clinical research. When an icon is clicked on, it enlarges, which provides visual feedback to stimulate motor neurons. It also speaks the text associated with the icon, which provides auditory feedback. These multiple modes of stimulation combined with continued use have been shown to increase language skills in adults with aphasia.

Adult specific: Lingraphica's AAC devices are made specifically for adults with aphasia and

verbal apraxia. Our devices have adult-focused images and an interface that is conducive to a mature audience. Icons and images found in the device can help adults describe important medical information, details about loved ones, and memories of past times. This is all within the device's dedicated language system. On an iPad, a user would need to access multiple applications or programs to display this information. To go in and out of programs requires a detailed level of understanding around the iPad's structure, one many users might not feel comfortable using.

Scientifically developed: Lingraphica's Chief Scientist, Dr. Richard Steele,

has conducted extensive research on AAC for adults with aphasia. He also holds multiple patents relating to AAC. For years, his input and clinical knowledge has helped build the line of Lingraphica AAC devices. His understanding of aphasia combined with his background in linguistics and language combines to create the clinically-sound speech devices we offer today. No other device on the market, including the iPad, can claim this.

Support and training: Caregivers, loved ones, speech-language pathologists, device users, doctors, nurses, you name it, are always welcome to sign up for our unlimited support and training program.

Our Clinical Consultant and Technical Support teams offer a variety of resources to help device users and their caregivers understand and use an AAC device. This is a program available for the lifetime of the device at no additional cost. How many iPad apps offer unlimited training and support?