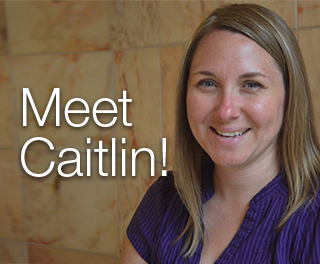 Caitlin Mueller is a speech-language pathologist and Clinical Consultant for Lingraphica. With years of experience using augmentative and alternative communication (AAC) with children and the elderly, Caitlin know what its takes to help all ages communicate.
As the California representative for Lingraphica she spends a lot of time on the West coast spreading the word about aphasia, AAC, and so much more. Caitlin recently gave us the scoop on her life as a speech-language pathologist in the Golden State.
You live in the Golden State. What's your favorite part about California?
Apart from the weather? There's something for everyone here! Where else can you snowboard, surf, go to a concert at an iconic Hollywood club and eat at a five-star restaurant… all in the same weekend!
What attracted you to the field of speech-language pathology?
I'm an extrovert who loves to talk, so the idea of helping other people to be able to communicate was naturally appealing to me. I love the diversity within the field and the fact that we get to make such a big difference in our clients' lives.
Name three words that you think describe augmentative and alternative communication.
Innovative, promising, and underutilized.
Can AAC work for any age or diagnosis? What about autism?
"Any" is a big word, but it absolutely can work for a very wide variety of ages and diagnoses. I try to focus on the clients strengths and needs, rather than the label of their diagnosis. Prior to coming to Lingraphica, I primarily worked with children with severe, nonverbal autism. Many of them did very well with high tech AAC devices and were able to communicate many things they wouldn't otherwise have been able to. The oldest person I have worked with on AAC is 97, and he is rocking his new AAC device!
I'm new to AAC, what do I need to know about Lingraphica's device trial?
The best way to know if someone is going to be a good fit for one of our devices is to put it in front of them! We offer free month-long device trials, supported by a clinical consultant, to help the speech pathologist and the patient and family decide if a Lingraphica device is the best option. We are here to offer training and clinical guidance the whole way.
I have a client with apraxia. What features on the device would be most helpful for him?
Many patients with apraxia enjoy using the pre-loaded mouth position videos to cue themselves and increase their verbalizations. While our speech-generating devices are first and foremost communication devices, there is a lot of therapeutic benefit to using them and we often see patients increase verbalizations while using the device.
How can an SLP connect with you?
Please feel free to contact me anytime! I can be reached by phone at (916) 479-4983 or by e-mail at cmueller@lingraphica.com. Connect with me on LinkedIn.