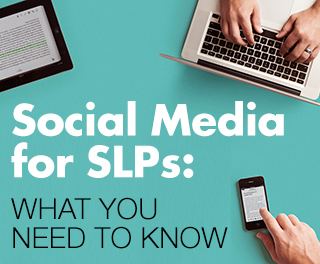 Speech-language pathologists (SLPs) face all sorts of daily hurdles: filling out paperwork, finding evidence-based treatment plans, checking insurance benefits, and logging therapy hours. The least of an SLP's concern is using social media to advance and grow his or her practice. Right?
Wrong.
This past November, my colleagues, Faye Stillman and John Dimino, and I spoke about how to use social media to advance your speech-language pathology practice during the national ASHA convention. Clinicians from all backgrounds joined our session and expressed great interest in establishing a social media presence for their practices. Below are some of the most popular topics we covered.
Establish Thought Leadership and Connections
SLPs in all settings can greatly benefit from using social media to advance their practices. By establishing an online presence, you are creating a platform to post, share, and comment on various industry-related articles or information about your business. In doing so, you establish thought leadership and build important connections.
Some great examples of hospitals, home-health agencies, and clinicians doing this include:
Orlando Health & Arnold Palmer Hospital
Genesis Rehab & Hallmark Rehab
Handle Customer Service
Tackling customer service issues for your facility or private practice online and in front of the World Wide Web can be challenging and scary – you don't want to make negative feedback public. If you always look at the glass half empty, you'd never get anywhere in life. So, look at it half full! Here's why: by creating an online profile you open the doors for great customer engagement and positive posts from clients. This can help lead referral business and grow your practice. If negative comments do appear, do your best to answer it. If it's personal and might violate HIPAA, suggest to the user that you want to take the conversation offline and private message, email, or call them. If the negative responses continue, you need to look at the underlying causes. For example, if it's slow customer service, work with your team members to address the lack of resources, time management or other contributing factors. Social media always leaves room for growth.
Get Traffic To Your Website
Social media networks can serve as a large source of referral traffic for your practice or facility's website. In particular, Pinterest and Google Plus are especially high in referral traffic. By posting content and images that pertain to your business, users click this, and return to the "hosting" page (i.e. your website). You can read more about how to get started on social media here.
Having any type of social media presence is better than none. Of course, you need to address HIPAA concerns and other healthcare provider privacy issues, but there are ways to do this and still have a social media presence.
These are just a few of the topic areas addressed during our ASHA presentation. If you'd like more information or have another suggestion, please comment below. We also take inquires on Twitter @Lingraphica.