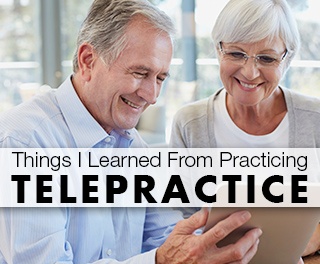 A year ago Lingraphica launched its telepractice offering, TalkPath Live! Using the platform, I provide remote speech and language services for clients in the two states I am licensed to practice speech-language pathology in: New Jersey and New York (TalkPath Live's additional therapists are licensed in the other 48 states and also treat international clients). As a telepractice clinician I've learned a lot about myself and creative ways to treat clients. Here are some of my biggest takeaways from the past year:
Access Remote Locations: Telepractice allows clinicians to work with clients who otherwise may not be able to get to their speech therapy sessions. Whether a therapy cap prevents a client from obtaining on-going speech services or he or she simply cannot get to the clinic nearest them, TalkPath Live provides high-quality care from the client's home or office. One of the biggest benefits is the service extends to individuals who live in remote locations, which accounts for almost 25 percent of the population. Currently, I connect with clients spanning from upstate New York to the Jersey shore.
Engaging Therapy Sessions: Even though we are working together on a computer, my clients are very engaged during our sessions. Not only do we have an excellent rapport with one another, but also we are also eager to connect each week. I always learn something new from my clients each time we meet.
More Interaction: With TalkPath Live everything is right at my finger tips. From Google Maps to online news stories, I am able to access content online which makes for a very interactive therapy session. For example, I use Google Images as a visual prompt during my sessions. I also reference Google Maps, YouTube, and Lingraphica's therapy platforms like TalkPath News and TalkPath Therapy. If I want to use a traditional paper-based exercise, I simply scan the document and save it my desktop so I can easily access it with a screen share during the session.
Flexibility: Telepractice allows for easy scheduling. Since I'm working with clients from their home or office, I am able to save time and book more appointments in a single day. I can also treat clients beyond the limits of business hours.
Therapy Where You Need It: Telepractice allows me to treat patients in their natural environment; whether it is at his or her home or office, it's therapy when and where they want it. This approach has so many benefits including: access to familiar items that can support communication, access to communication partners, and materials and resources that spark conversation. For example, if the client is struggling to communicate a story about a baseball game they went to, he can grab a baseball hat to cue his memory or spark a particular word. This set-up also allows me to assess how the client functions in a natural environment. I'm also able to quickly determine what (if any) functional skills we need to address. Finally, being in a familiar environment allows me to interact with the client's caregivers, communication partners, and family members. Often times the caregiver is just as excited to participate in the sessions. This also allows me to provide the caregivers and/ or communication partner with additional training for how to support their loved one's communication.
Connection Beyond Therapy: Using telepractice I am able to help my clients connect with others who share their same diagnosis. For example, I currently run a group therapy session with individuals with aphasia. One lives in New Jersey, while the other lives in New York. Prior to starting, the individual in New York has very limited exposure to other individuals with aphasia. With TalkPath Live I was able to connect the two. Since then I've documented significant changes in the individual's mood, demeanor and participation.
Custom Plans: Since telepractice is not currently covered by Medicare or many insurance plans, my clients are private-pay only. This might sound like a negative thing, but it's actually a HUGE benefit to the client. I am able to create highly-customized treatment plans that fit my client's specific needs because I'm not restricted by what an insurance company mandates I need to treat to continue coverage. In fact, the TalkPath Live team has treated adults struggling with stuttering, dysphagia, accent reduction, speech training, social skills, and much more. News reports indicate that insurance plans may soon cover telepractice, but until then, TalkPath Live will continue to treat clients.
Watch the video below and see how TalkPath Live works:
If you are interested in learning more about TalkPath Live, click the get started button and fill out the form.
Our team will be in touch with you. You can also call 855-274-9582.