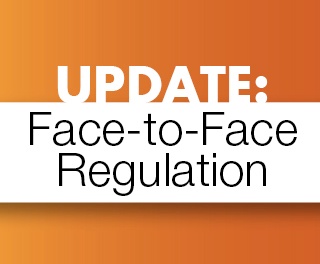 In 2013, the Centers for Medicare & Medicaid Services (CMS) asked all durable medical equipment (DME) providers to comply with a new face-to-face regulation.
The face-to-face regulation stated that all patients requiring a DME item see their physician for the medical condition supporting the need for the DME item including oxygen tanks, hospital beds, and speech-generating devices. Currently, the physician needs to document the patient's existing medical condition that warrants the placement of a DME medical item, like a speech-generating device.
Nearly three years later, let's take a closer look at the face-to-face regulations and the downstream effect it's had on individuals seeking to acquire a speech-generating device. Below are some of the most common questions we recieve at Lingraphica.
Q: What is the face-to-face regulation?
A: Face-to-face is a policy implemented by Medicare to ensure the patient is receiving medical equipment that fits their specific medical condition. As such, a patient must see his/her physician specifically for the medical condition and have the visit and treatment protocol noted within the medical record. Only then will the medical equipment be covered by insurers. The physician's visit must be on file within six months of the speech-generating device prescription date.
Q: I went to the doctor for a cold. Does this meet the face-to-face requirement?
A: No. The face-to-face requirement is only met if the physician also examined and/or discussed treatment for the diagnosis resulting in the need for the speech-generating device. For example, if your physician only treated the cold and did not discuss, treat, or evaluate the need for a speech-generating device, you will need to set-up another face-to-face exam.
Q: I usually see a Nurse Practitioner within the practice. Do I need to switch to a physician?
A: The regulations state the face-to-face exam to be conducted by a physician, nurse practitioner, physician assistant or clinical nurse specialist.
Q: I just saw my specialist. Do I really need to go back to my primary care doctor?
A: There is no need to see your primary care doctor if your specialist examines you, makes notes in his/her records about the speech impairment, and writes the prescription. But if your specialist did not treat or examine you for the speech impairment, another visit will be needed.
Q: I have never heard of this requirement before. Is this a speech generating device policy only?
A: The face-to-face regulations applies to other DME items including hospital beds, oxygen tanks, and wheelchairs.
Q: I don't have Medicare. Does this regulation apply to me?
A: It's possible. Many private insurance companies have their own processes and policies that match Medicare's. To help you navigate this, Lingraphica's client advocate team works with your insurance company to find out exactly what they need to provide coverage for a speech-generating device.
Q: How do I know if the doctor recorded my last visit? Will you call my physician?
A: Lingraphica's client advocate team will contact your doctor and ensure the face-to-face requirement was met. We also have all of the necessary paperwork in place to begin this process early.
Q: Is there a time requirement for me to see my doctor for a face-to-face visit?
A: Yes, you need to see your doctor within the six months of the prescription date for the speech-generating device.
The Centers for Medicare & Medicaid Services (CMS) reminds certifying physicians that they are responsible for providing the medical documentation necessary to support that the patient is eligible for a speech-generating device. If the patient's medical record is not sufficient, Medicare will not pay for device. Further, if Lingraphica's claim is not covered because of insufficient documentation, Medicare also will not cover or pay the physician's claims for certification/recertification of eligibility for a speech-generating device. As such, Lingraphica works closely with the patient's physician and speech-language pathologist to ensure all necessary paperwork and face-to-face visits are complete and meet CMS's guidelines.
Have questions about face-to-face? Contact our knowledgable client advocate team today at 888-274-2742.