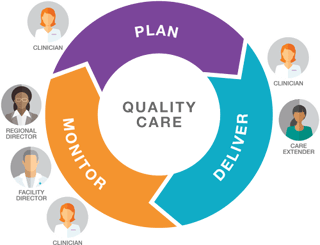 Older adults now comprise about 14% of the United States population. As the population continues to age, that number is estimated to grow; by 2020, 12 million Americans are expected to need long-term care (LTC). Additionally, the prevalence of cognitive impairment among the older population has increased significantly over the past decade.
With diagnoses including dementia, CVA, mental status change, depression and/or anxiety, long-term care residents may be at elevated risk for social and or communicative isolation. Social isolation itself is considered a risk factor for morbidity and mortality. Functional Maintenance Programs (FMPs) can be designed to augment or maintain a resident's functional status and well-being.
Lingraphica recently worked with residents and therapy staff in several long-term care facilities to examine the effect of using an online tool as part of an FMP. Clinical Speech-Language Pathologists (SLPs) used online therapy exercises that focused on four communication modalities--listening, speaking, reading, writing--to establish residents' baseline performance. Individualized treatment sessions were then carried out by care extenders (family members, activity managers, or volunteers). The purpose of the FMP is to engage residents in activities designed to help maintain mental acuity and prevent functional declines.
Following participation in the online FMP activities, National Outcomes Measurement System (NOMS) measures showed improvements in auditory comprehension, expression and memory, and overall stability in Brief Interview for Mental Status (BIMS) scores among the residents. BIMS provides data for monitoring residents' attention, orientation, and ability to register and recall new information.
Because LTC managers want activities that engage enthusiasm, promote social interaction, and help residents avert cognitive decline, adopting online tools as part of an FMP may be an effective strategy to help meet the needs of an expanding elderly population.
Click below to download our full whitepaper: How Online Therapy Helped Improve Patient Outcomes and Satisfaction Scores in a Long-Term Care Setting