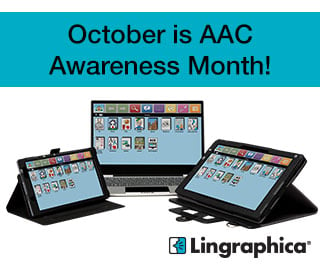 October is AAC (Augmentative and Alternative Communication) Awareness Month! It is important to take time this month to celebrate and bring awareness to all the different ways that we communicate! The American Speech-Language Hearing Association (ASHA) estimates that more than 2 million people use some form of AAC.
Forms of AAC include gestures, pictures, pen/paper (writing), sign language, symbols, facial expressions, communication apps, and speech-generating devices. These methods may be used in conjunction with each other to increase communication effectiveness. Many people of all ages utilize these tools to help facilitate communication and share their message.
Today, we all rely on technology and use a combination of communication methods like texting, posting, tweeting, smiling, waving, pointing, and talking. There is no right or wrong way to communicate a message.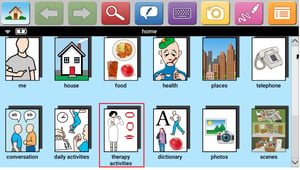 The goal of AAC Awareness Month is to bring awareness to the community about augmentative and alternative communication. The International Society for Augmentative and Alternative Communications' (ISAAC) theme for this year is "Dare to Lead." At Lingraphica, we strive to be a leader in the field of AAC. We provide free therapy apps and resources, offer CE courses and in-services, conduct research in the field, and customize speech-generating devices. Through all these efforts, we are committed to be your partner for the communication journey.
If you want to know more about our AAC devices, we invite you to visit our website to find out more. And if you know about our devices, but haven't done a device trial with one yet, now is the time! Get familiar with what a Lingraphica device can do to help improve the communication of your clients. Your FREE trial awaits at no risk to you or your client...and you can earn ASHA CEUs as well at no cost!