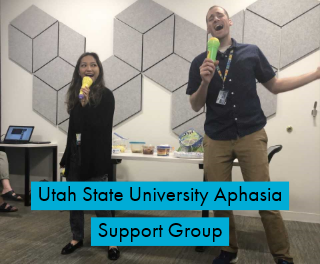 Dealing with aphasia can be a long, hard road for many. Thankfully, there are organizations dedicated to helping and supporting that journey. Meet the Utah State University Aphasia Support Group and the services it provides to people who have aphasia.
The Utah State University (USU) has operated an aphasia support group since 2012. Attendees meet in the USU Speech Language Clinic, located in the Sorenson Center for Clinical Excellence on the beautiful campus in Logan, Utah. The group was started with the hope of providing social and educational support for individuals with aphasia in their local community. The meetings are designed to be relaxed and fun with input from group members on topics to discuss and guest speakers to invite.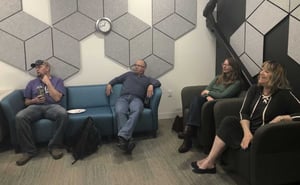 They meet once a week on Fridays at noon, and for the first time in 2019, the group will gather during the summer months. Speech-language pathology graduate students run the clinic under the supervision of a clinical professor. The graduate students take the responsibility of planning and implementing activities for the meetings. The meeting format varies based on input from the participants, but it typically includes education, games, guest speakers, and a variety of engaging and enjoyable group activities.
Guest speakers have talked to the group about getting back into the job market, communication tips, stress relief strategies, and self-advocacy. During group activities, the members have played a variety of games, including "Minute to Win It," "Jeopardy," and "Head Bands." At a recent group meeting, members enjoyed a "Karaoke and Nachos" day. Group members have presented on books they have read, topics of interest to them, and even their individual aphasia journeys. The group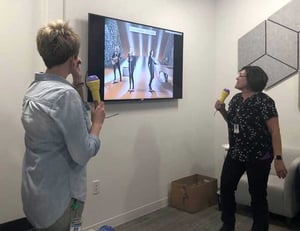 has completed service projects for a children's hospital as well as the university. One of the group's favorite meetings included an "Art Walk" and a visit to the on-campus ice cream parlor.
Most of the members have been attending the since the group began seven years ago and have developed close friendships over the years. Newcomers with aphasia are welcome, and the participants say they continue to attend because it's fun and they like being with people who support and understand their communication struggles.
For more information, please contact Debbie Amundson, M.Ed., CCC-SLP at Utah State University at debbie.amundson@usu.edu or by phone at 435-797-9059.
If your organization or one you lead would like to be spotlighted on Lingraphica's blog, please fill out our Aphasia Group Submission form.