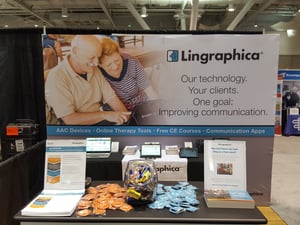 Just like that, another ASHA conference is over. This year's convention was one for the record books! Over 18,000 attendees braved the Boston cold and snow to attend. The Lingraphica crew was happy to have met so many speech-language pathologists who stopped by the booth to inquire about our products and services. Read on to see what Lingraphica was up to at this year's ASHA conference.
First, we want to give a big "thank you" to all of the speech-language pathologists who took time out of their busy schedules to stop by our booth. Whether it was just to say "hi," grab some candy and pins, or to inquire about our products and services, we're extremely grateful.
For those of you who didn't get a chance to attend the conference, here's a recap of what you missed at booth #515.
We were excited to showcase some of the brand new features on our AAC devices. The features included a new alignment tool, the ability to change the background color on the devices, an updated photo editor, as well as an updated homepage, which now puts personalized icons front and center. Watch the video below to learn more about these new features. If you would like to trial one of our updated AAC devices for free, click here!
Along with showcasing our updated devices at the booth, we also had a poster session featured on Saturday, November 17. The poster session was led by our Chief Scientist, Dr. Richard Steele, Ph.D, Michael de Riesthal, Ph.D, CCC/SLP of Vanderbilt University, and Angela Ball, Ph.D, CCC/SLP of Nevada State College titled Linguistic Analysis of Monosyllables in Repetition Practice.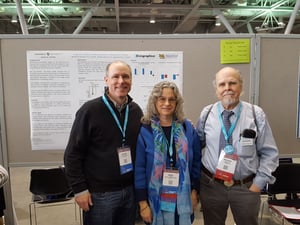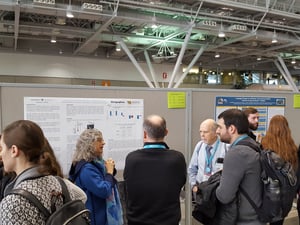 The ASHA convention continues to be a great way for us to connect with new and experienced SLPs who may not know about Lingraphica. We especially enjoy the reactions we get whenever we mention that all of our communication apps and online therapy tools are completely FREE! We're not kidding...take a look for yourself!
As we close the book on another convention, be sure to look for the Lingraphica booth at next year's convention in warm and sunny Orlando, FL!