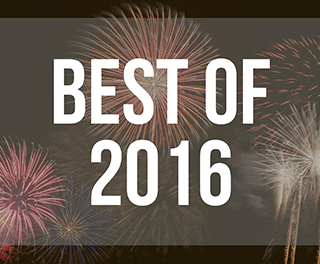 In December 2016, Lingraphica asked our SLP friends to take part in a "Best of 2016" survey to find out a few of their favorite things. Here's what they said.
We posed five questions to SLPs to learn about what they are reading, what tools they are using, and what continuing education courses they are taking to stay at the top of their game. These questions were open-ended, so we consolidated the varied responses into groups of closely-related answers to provide some easily digestible feedback. Any unique or single-vote answers did not get tabulated into the results.
So if you've been looking for a blog to follow or low-tech AAC tool to use, check out what topped the list for 157 of your SLP peers!
Question 1 : What is the best app you use with your clients?
There was no shortage of replies for this question, with almost 50 people giving unique answers. For apps that received two or more votes (109 of them), the results shaped up like this:
Top 5 Best Apps:
#1: Lingraphica TalkPath Therapy (17 votes)
#2: Constant Therapy (15 votes)
#3: Lingraphica (apps in general) (10 votes)
#4: Tactus Language Therapy - 4-in-1 Toolkit (10 votes)
#5 (tie): Articulation Station by Little Bee Speech (9 votes)
#5 (tie): Lingraphica Small Talk Apps (collection) (9 votes)
Honorable Mention:
Tactus Language (Comprehension, Naming, Reading & Writing)

Lingraphica Oral Motor Exercises
LAMP Words for Life
Lingraphica TalkPath News (3 votes)
Chain of Thought
Lingraphica SmallTalk Phonemes
Lingraphica SmallTalk Dysphagia
Word Vault
Speak for Yourself
Question 2: What is your go-to publication for staying on top of SLP trends/news? Is this print or online?
This question received an overwhelming response for one organization. It likely comes as no surprise that ASHA—in one form or another—is an SLP's best friend when it comes to staying current on the latest trends, tools, and common practices. Of 139 responses who indicated they mostly ASHA titles, only five mentioned two other resources, which were the ADVANCE for Speech & Hearing and Informed SLP.
Top 4 Go-to Pubs:
#1: ASHA Leader, print and online (42 votes)
#2: ASHA Leader, print (32 votes)
#3: ASHA Leader, online (21 votes)
#4: ASHA online Journals, (AJSLP, LSHSS) (21 votes)
#5: ASHA Special Interest Groups (SIGs), online (7 votes)
Honorable Mention:
ASHA website
ADVANCE for Speech & Hearing, online
The Informed SLP, online

Question 3: What is your favorite SLP blog and why?
Another question that resulted in a runaway winner, but perhaps with a bit of a surprise. Of 126 answers that had at least two votes, just over half (65) of our responses came in with an answer of "none." Here's how the rest of the field distributed its choices for favorite blog.
Top 5 Blogs:
#1: ASHAsphere - well informed opinions (8 votes)
#2: ASHA SIGs (collective) (8 votes)
#3: Honeycomb Speech Therapy - a lot of great practical ideas to that target various skills (6 votes)
#4: Facebook SLP groups (collective) (6 votes)
#5: PrAACtical AAC - concrete, usable info within field (5 votes)
Honorable Mention:
Dysphagia Cafe - quick and interesting information
Gray Matter Therapy - well-written, timely, focuses on evidence-based practices, interesting topics
Speech Room News
Tactus Therapy - very accessible, interesting, accurate, inviting
Lingraphica – SLP Blog
Amy Speech and Language Therapy - great adult resources
Pathologically Speaking - provides resources for medically- and education-based SLPs
Speaking of speech - always has go to materials
Nicole Allison, SLP "Let's Talk Speech Therapy" - info from a school-based SLP doing real life speech/language therapy in a school system

Question 4: What was the best CEU course you took this year and who sponsored it?
Providing the most varied answers, this question brought in only 50 answers that had two or more votes for each. With CEUs available all over the country, this is no surprise. However, despite the wide array of answers, we found some common threads that ran through the responses.
Top 5 CEU Courses:
#1: ASHA conventions (12 votes)
#2: None or N/A (10 votes)
#3: Lingraphica - Introduction to using AAC (6 votes)
#4: Vital Stim Training by CIAO Seminars (6 votes)
#5: LSVT LOUD refresher course (5 votes)
Honorable Mention:
Speechpathology.com Virtual Conference

ACRM Cognitive Rehabilitation Training

Picture Exchange Communication System (PECS) Level II Pyramid
In addition to these results, we also found that:
23 people listed some variation of an ASHA CEU course
19 of the CEU courses delivered information on dysphagia
11 of the CEUs came from courses on Speechpathology.com
6 people took a course about dementia

Question 5: What is your favorite low-tech AAC tool?
Our fifth and final question centered around SLP's favorite "unplugged" tools to use with clients. Many of these answers were similar in nature, so the results are grouped into broad categories with a common underlying use. Here's what SLPs like to use when electronics are not available or not preferred:
Top 5 Low-tech AAC Tools:
#1: Communication/Language/Alphabet Boards (35 votes)
#2: Homemade Flip Book/Personalized Photo Boards (25 votes)
#3: Picture Boards (20 votes)
#4: Wipe-off Boards/Whiteboards (12 votes)
#5: I don't have a favorite/None (9 votes)
Honorable Mention:
Pen and Paper

Picture Exchange Communication System (

PECS)

Make Photo Memory Aids/Scrapbooks

Eye Gaze Board

Big Mack with Cause-Effect Switch
There you have it...the Best of 2016 SLP Survey results! One last item of note: we have randomly selected the winner of the $100 Amazon gift card for participating in this survey. Congratulations to Jennifer Peiffer! You are the lucky recipient of the gift card from Lingraphica! Thanks to all who participated...we hope the results give some insight into what your colleagues are loving in the SLP world!