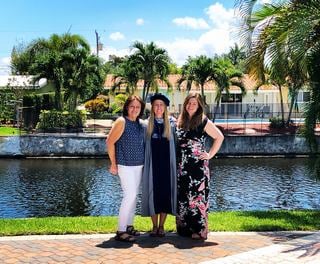 Lingraphica's own Brianne Kosch, M.A., CCC-SLP/ATP, recently traded in some letters behind her name for new ones. In June 2019, she earned her Clinical Doctorate in Speech-Language Pathology (SLPD) from Nova Southeastern University in Florida and became the second "doctor" on staff at Lingraphica, along with our Chief Scientist and Co-founder, Dr. Richard Steele.
With a Master of Arts degree in Speech-Language Pathology, Brianne began her career at Lingraphica as a clinical consultant in 2011. She worked with both SLPs and those who had communication disorders. She taught them how to use Lingraphica's communication devices, TalkPath Therapy (our online therapy platform), and our family of apps. Brianne also worked closely with members of Lingraphica's User Group in Princeton, becoming not only a teacher, but a friend to many stroke survivors in the group and their caregivers.
During her time as a clinical consultant, she took vacation time to further educate herself through courses on Supported Conversation for Adults with Aphasia (SCA) and the Life Participation Approach to Aphasia (LPAA). She also volunteered her time with the Aphasia Recovery Connection (ARC) and participated in several aphasia cruises and boot camps.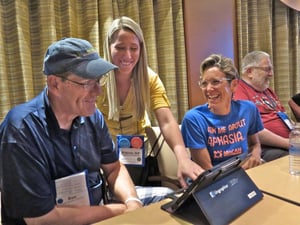 With a continued desire to learn more about the aphasic population and its needs, Brianne decided in 2014 to pursue her doctoral degree in speech-language pathology.
Brianne's Research
Brianne's dissertation research focused on the quality of augmentative and alternative communication (AAC) training that caregivers received when their loved one with aphasia became an owner of a Lingraphica AAC device. Her research also examined how the level of AAC training SLPs receive during their master's programs affects the quality of training provided to those who support the device user. The study showed that SLPs report that they did not receive adequate training in AAC, and primary caregivers report feeling underserved and undertrained when it comes to AAC and supporting their loved one on the AAC device.
"The findings from my research have given me the evidence I needed to push forward my efforts in supporting and advocating for caregivers, especially those with loved ones who use AAC," said Brianne.
Brianne's Newest Role at Lingraphica
As a result of her research, Brianne also made a shift in her career to focus solely on people with aphasia and their caregivers. She transitioned to the marketing department of Lingraphica and filled the new role of Customer Experience and Engagement Manager. Now, she trains the primary communication partners and caregivers of new Lingraphica device users to functionally customize and maintain the device, and to encourage and support their loved ones' daily use of the device.
"It's amazing to take what I've learned through my research and directly apply it to my daily work at Lingraphica," said Brianne. "I feel like I am able to make a real impact. Caregivers, in general, have always been an underserved population, even more so when AAC is introduced. Many don't realize just how crucial their role is. I hope that my research can contribute to improving the services and support provided to the families and caregivers of people with aphasia," she said.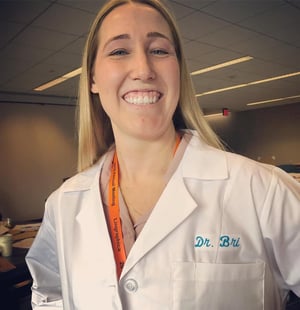 Now that she is officially "Dr. Bri," Brianne plans to keep on doing what has inspired her throughout her career in speech-language pathology: helping others to improve their communication skills and live successfully with aphasia. She just has a bigger toolbox to use, thanks to hard work and dedication.
Many congratulations, Dr. Bri! Lingraphica is proud to call you one of our own.
To learn more about Lingraphica's communication devices and how they can help people with communication disorders like aphasia, click the button below for information!