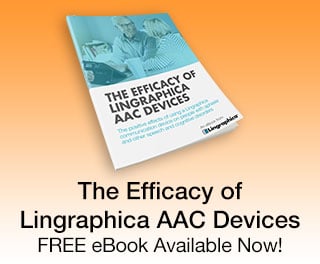 Backed by more than 30 years of research, Lingraphica created an eBook that shows AAC devices improve functional communication. Read on for the science behind our products.
Have you ever had a client you thought might be too old to effectively use an AAC device? Or maybe you wondered if your client would be happy using the device, even after he/she is no longer on your caseload? Ever wanted to recommend a high-tech solution but lacked the research to support your decision?
Those are great questions…and ones that deserved to be asked. If you've never done a free trial with a Lingraphica AAC device, here's the background behind our products.
For the past 30 years, Lingraphica has conducted medical research in aphasia, communication, communication devices, and communication disorders. The founders and staff at Lingraphica have written more than 50 articles based on scientific studies and presented more than 50 posters at conferences around the world. This research—and its practical application through our AAC devices and other products—has earned Lingraphica a reputation as the trusted name in helping adults with aphasia and speech disorders regain their ability to communicate.
So just what does this research show?
More than three decades of studies yield a wealth of information. In order to make that information easy to digest, Lingraphica created a free, downloadable eBook entitled "The Efficacy of Lingraphica AAC Devices."
In the eBook, you'll find out about:
• User satisfaction with Lingraphica devices
• The degree of improvement that is possible with a Lingraphica device
• The role that age plays in affecting beneficial outcomes
• Communication improvement potential years after a stroke
• The kinds of communication improvements that are possible.
If you've been a Lingraphica fan for a long time, this eBook will confirm what you already know— Lingraphica develops AAC devices with the goal of improving the client's communication by continuously improving our products based on research. And if you've never tried one of our devices, the eBook will give you the confidence to do so.
Download your copy of "The Efficacy of Lingraphica AAC Devices" today!