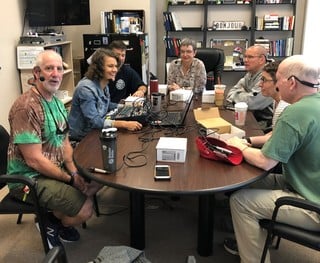 During the Aphasia Access Leadership Summit in Baltimore in March 2019, Lingraphica had the chance to catch up with Amy Georgeadis, MS, CCC-SLP of the Stroke Comeback Center (SCC). The Stroke Comeback Center, headquartered in Vienna, VA, is a community of survivors of stroke and other brain trauma committed to living successful and productive lives. Read on to learn what's new at the center since we last talked with them.
Q: Amy, what brought you to Aphasia Access this year? What were some of your take-aways from the conference?
A: Many Stroke Comeback Center speech-language pathologists attended the Aphasia Access weekend, and one highlight is the ongoing need for community advocacy for people with stroke and aphasia. We came away thinking about next steps and how to build on the Life Participation Approach to Aphasia (LPAA), and how to continue to be good stewards of LPAA.
Q: And can you tell us what's happening at Stroke Comeback Center?
A: The Vienna, VA location now has about 100 members, and conducts over 40 groups each week. The Rockville, MD center opened in April of last year, and is up and running 4 days per week, with aphasia, speech and communication groups, and we recently added cognitive communications programs like memory and functional problem-solving groups in Rockville. Rockville now has 45 members and continues to grow. We're also working on the "Loudoun Project," with new programming expected to be offered later this year in Leesburg, VA.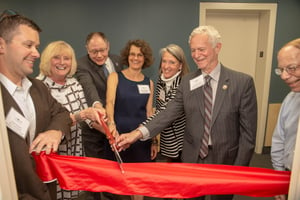 Our in-house groups are led by SLPs, and each day we have additional program options, like adaptive yoga, and a Fun and Fitness class led by an adaptive fitness trainer. We're exploring program and support options for Loudoun, and plan to include speech and language groups as well as arts and music therapy programming.
The Stroke Comeback Center's "Caregiver Connection" offers monthly groups in Vienna and Rockville and is open to family members and friends of stroke survivors who attend the Stroke Comeback Center. The Caregiver Connection allows members' loved ones to exchange resources and to make new connections. Some topics of discussions include recommendations for home health services, financial and retirement advisor suggestions, adaptive equipment resources, and much more. SCC is developing a database of these resources as a result of this initiative for caregivers and communication partners to have access to this information through SCC's website. A Stroke Comeback Center volunteer, who is also a retired SLP, donates her time to spend with members while their caregivers meet during these sessions.
Along with the Caregiver Connection, SCC continues to offer new resources to caregivers and communication partners. A new caregiver mentoring program, initiated by existing SCC members and their families, was recently started for new members, their family, and caregivers. A core group of caregivers who have been with the center for a long time help the new members navigate the world of stroke and help to answer any questions they have about being a member of the SCC.
One other exciting program the Center continues to offer is a podcast group called "The Slow Road to Better." This effort began in February of 2017 and is still going strong. We release episodes twice a month where stroke survivors tell their stories on a variety of topics (including dating after stroke, vision changes, volunteerism, and what keeps them going). Check out "The Slow Road to Better" here.
Stroke Comeback Center continues to grow and to provide communication and fitness resources to stroke survivors and their families in the Virginia and Maryland areas. By providing more programs in more locations, we can continue to embrace and promote the Life Participation Approach to Aphasia.
_______

If you lead or take part in an aphasia support group, we invite you to download 10 Suggested Activities to Promote Supported Conversation to try with your group to get the conversation flowing!