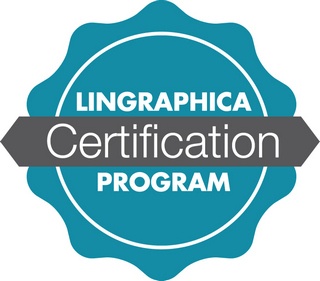 In April of 2018, Lingraphica announced a new program for speech-language pathologists seeking advanced training and knowledge on all of Lingraphica's technologies: The Lingraphica Certification Program.
By participating in the Lingraphica Certification Program, SLPs become Certified Lingraphica Technology Specialists. SLPs who earn this recognition are proficient in the use of all Lingraphica technologies and are now part of a group of speech-language therapy professionals who work closely with Lingraphica to optimize outcomes for people with aphasia and other communication disorders.
In celebration of the program's one-year anniversary, here are some highlights about how far we've come:
To date, 31 SLPs have fully completed the program, becoming a Certified Lingraphica Technology Specialist

Over 150 SLPs are currently in the process of completing the program

Program participants have earned over 500 hours of continuing education credit
The program includes a variety of recorded presentations, self-study courses, and opportunities to connect and collaborate with other participants; and SLPs can earn up to 3.4 ASHA-certified CEUs. Best of all, there is no charge to take part in the program!
Here's what some program members are saying about their experience:
"I very much appreciate the information and resources you have gifted me...all for free! I really couldn't ask for more!"
"It was a great experience and everyone I came in contact with was very supportive and worked hard to meet my needs"
"Knowledge of how to implement the communication devices and apps into more of my patients' clinical and home programs [has been the most valuable aspect]: it's opened up a new toolbox for me to share with patients and caregivers."
We caught up with travel-enthusiast, pet-lover, and Certified Lingraphica Technology Specialist Lindsay Blystone, M.S., CCC-SLP, for an in-depth look at her experiences in the program. Lindsay decided to complete the program out of a desire to increase exposure to and acceptance of alternative and augmentative communication (AAC) technology in the rural areas of Pennsylvania that she services as a home health SLP. As an SLP still early in her career, she stated that she wasn't sure what to expect when she first initiated a device trial, but was pleasantly surprised at how smooth the process was when working with Lingraphica. When asked about what she learned over the course of the program and how her clients have been able to use the technologies, Lindsay shared a great success story about the broad capabilities of a communication device: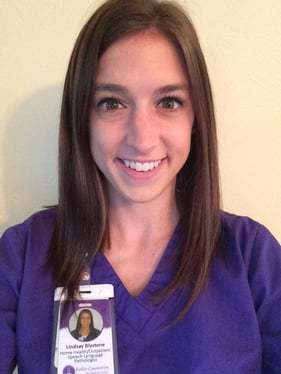 "The devices are capable of so much more than just having a client be able to meet their basic needs. From setting up a home exercise program with TalkPath Therapy to being able to take photographs of family members and engage in conversations, they can really do so much. I recently got a device for a client with Parkinson's. She used to love to paint and draw, but since her fine motor impairment has gotten worse, she is unable to do so. She has been using a weighted stylus and drawing pictures using the paint program that's embedded into her communication device! These drawings have now inspired more conversations and improved quality of life by restoring a function she thought she would never be able to do again!"
Lindsay also shared a client success story about how the use of a communication device can have a beneficial impact on verbal language in individuals with aphasia, despite the common fear that a device will take the place of talking. She discussed how incorporating a Lingraphica AAC device and TalkPath Therapy in her speech therapy sessions has helped her client regain verbal skills. She described the client as nonverbal when she began treatment, but after nine months of speech therapy, including the use of Lingraphica technologies, he is now a verbal communicator who is "making jokes and telling stories!"
Lindsay said that she likes working with clients who have aphasia, as she feels she can play a role in improving their quality of life. We are excited that she has completed the Lingraphica Certification Program to add to her repertoire as she does so!
If you would like to join your peers in becoming a Certified Lingraphica Technology Specialist, please click below for more information or to schedule a meeting.