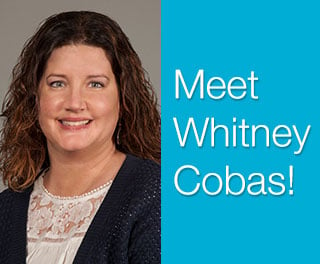 Whitney began her journey as a Lingraphica clinical consultant in December 2018. She is from South Carolina. Whitney graduated from Winthrop University with a Bachelor of Arts in Communication Disorders and from the University of South Carolina with a Master of Speech Pathology degree. Read on to find out a bit more about one of our newest additions to our clinical consultant team!
What did you do before coming to Lingraphica?

I worked as a speech-language pathologist for 15 years in various settings. Most of my time was spent in healthcare working in acute care and outpatient settings.

Who or what inspired you to become an SLP?

A family member had a father who had a stroke and a child that had trouble with articulation. An SLP came to her home to work with both her father and her son. One day, I told her that I was looking for a new major and career idea, and she suggested that I consider speech pathology! After researching the field, I really liked the idea of studying science and language. The power of suggestion got me here!

How did you decide to join Lingraphica?
For a while in my hospital position, I worked with a Lingraphica competitor to obtain AAC devices for my clients. I was never very comfortable with the process of evaluation and recommendation and felt a lot of pressure to decide quickly whether to recommend the device. There was also the pressure of figuring out how to train the client and communication partner to use the device, even though I did not feel much confidence in my own ability or knowledge in using the device! One day, the representative for the other company left the position, and I had to find an alternative until a new representative was available. I was familiar with the name of Lingraphica as a company, but I did not know much about the products or services they represented. I began a trial with a Lingraphica clinical consultant and was amazed at the difference in customer service and support available to me during the trial. I was pleasantly surprised that I even got to use the device for a real trial because that was not available with the other company I had worked with.
I never looked back. In fact, I signed up to participate in Lingraphica's Certification Program to learn all that I could about the products. I began using TalkPath™ Therapy and TalkPath™ News in many of my treatment sessions. I learned as much as I could about Lingraphica with the hopes of one day applying to work as a clinical consultant myself. When a position opened, I applied and was offered the job. So, I am very happy to be here!

Lingraphica is a mission-driven company that aims to help as many people with communication and speech disorders as possible. Do you have any personal goals for your work? What do you hope to achieve in your first year?
My goal for my first year is to reach out to SLPs in my region and help them to become more comfortable with recommending AAC devices for their clients. I spent many years believing the myth that AAC was a last resort for clients after all other therapy had been tried in order to help them regain their ability to verbally communicate. Now that I know more about the research that shows the benefits a client gains just from using the device, and have witnessed firsthand how beneficial this can be for clients, I understand the value of initiating a trial as soon as possible rather than waiting to do it as a last resort. I hope to help get this message out so that SLPs think of AAC devices sooner when they encounter a client that is a good candidate. I would like to see more clients get the tools they need to functionally communicate as soon as possible.
-----------------
If you or someone you know might be interested in becoming part of the dedicated Lingraphica team, click the button below to submit a resume.