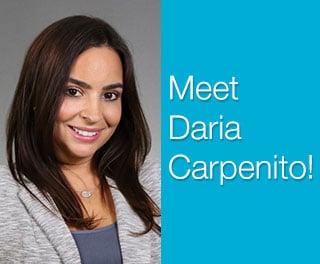 Daria began her journey as a Lingraphica Clinical Consultant in April 2017. She is from Westchester, NY and currently resides in Manhattan. Daria graduated from Hofstra University with a Bachelors in Speech-Language and Hearing Sciences, and from Adelphi University with a Masters degree in Speech Language Pathology. Read on to find out a bit more about the latest addition to our clinical consultant team!

Tell us a little bit about yourself: what do you like to do in your spare time and what are your passions?
I enjoy spending time with my friends and family, reading fiction novels, jogging in Central Park, exploring the various restaurants the city has to offer, and practicing yoga. I have attended a few aerial yoga classes--a combination of acrobatic movements and anti-gravity yoga--and it was a lot of fun!

What did you do before coming to Lingraphica?
Before joining Lingraphica, I was an SLP in an adult-focused rehabilitation setting, treating people with communication and dysphagia related difficulties/disorders. I obtained specialty training in FEES (Fiberoptic Endoscopic Evaluation of Swallow) and certification in NMES (Neuromuscular Electrical Stimulation) for the treatment of dysphagia. Before Lingraphica, I supervised graduate-level students and developed a passion for mentoring and teaching aspiring SLPs. In addition to my work in the field of Speech Language Pathology, I also have a passion for helping people find motivation and tools to meet their personal goals as a Certified Life Coach with great interest in health/wellness.

Who or what inspired you to become an SLP?
My father told me when I was growing up that I would be a successful lawyer because of my uncanny ability to communicate and reason at such a young age. Although I did have an ability to analyze, question, and communicate quite effectively, it was a bit of a catch-22 situation because I was also reserved and perceived as shy by many of my outspoken peers at school. During a high school internship program, I was assigned to a Holistic Learning Center. I felt an immense sense of passion and purpose being part of a small team of SLPs who were making an incredibly huge impact on people's lives. I soon learned "a career in speech-language pathology challenges you to use your intellect (the talents of your mind) in combination with the humanity (the gifts in your heart) to do truly meaningful work."

Lingraphica is a mission-driven company that aims to help as many people with communication and speech disorders as possible. Do you have any personal goals for your work? What do you hope to achieve in your first year?
My goal is not only to provide SLPs with knowledge and understanding of our products, but most importantly, to help people re-gain hope and ultimately the gift of communication. My first year at Lingraphica will be the most important year for me because I plan to merge my own passion for the field with Lingraphica's mission to reach more people affected by communication disorders.

What else would you like us to know about you?
I am truly excited to have joined Lingraphica as a Clinical Consultant. I believe whole-heartedly in their mission and their values as a company, and I am looking forward to being a part of the team!