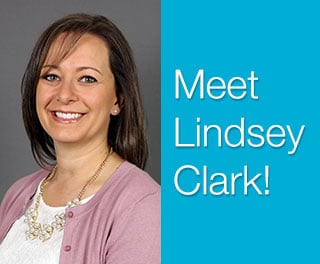 Lindsey began her journey as a Lingraphica Clinical Consultant in May 2017. She was born and raised in Pottsville, PA, and currently resides in the small town of Centreville, MD, located on Maryland's beautiful Eastern Shore. Lindsey graduated from Bloomsburg University with a Bachelors in Speech/Language Pathology. She continued her studies at Towson University to earn her Masters in Speech/Language Pathology. Read on to find out a bit more about the latest addition to our clinical consultant team!

Tell us a little bit about yourself: what do you like to do in your spare time and what are your passions?
I enjoy relaxing on the beach, trying out new restaurants, and going to live concerts. Although I'm a country music lover at heart, I've seen artists/bands from a wide range of genres including rock, hip-hop, and pop! Above all, my absolute favorite pastime is making memories with my husband and our three small children. We spend our free time flipping on the trampoline, having dance parties in our living room, and exploring the beautiful sights of the Chesapeake Bay. Like most fellow Marylanders, we look forward to the summer months when we can indulge in steamed blue crabs smothered in Old Bay seasoning. We also cheer faithfully for the Baltimore Orioles and Ravens!

What did you do before coming to Lingraphica?
During my past 11 years as a speech/language pathologist, I've been fortunate to gain valuable experience in a variety of settings. I've treated adults with communication and swallowing impairments at the acute care, acute rehab, and outpatient levels. Most recently, I've had the opportunity to work extensively with the pediatric population in the public school system. I'm so thankful for the lasting relationships and bonds I've formed with so many patients and colleagues along the way.

Who or what inspired you to become an SLP?
Before recently retiring, my mother was a nurse in a skilled nursing facility for many years. She was very impressed with the work of the facility's speech/language pathologist. As a result, she encouraged me to come in to observe when I was exploring career paths during my senior year of high school. I knew that I wanted to work in a service-oriented "helping" profession, and I fell in love with speech/language pathology instantly when I witnessed the profound impact the SLP had on her patients and their families. After perusing some college course catalogs and researching the field, I knew communication sciences and disorders would be a fascinating field to study. The rest is history.

Lingraphica is a mission-driven company that aims to help as many people with communication and speech disorders as possible. Do you have any personal goals for your work? What do you hope to achieve in your first year?
During my first year as a Clinical Consultant, I'm looking forward to partnering with SLPs across my region (and even the nation) to help people with speech/language difficulties access the tools they need to regain their ability to communicate. My goal is to have a hand in changing as many lives as possible.

What else would you like us to know about you?
Lingraphica is doing amazing things to help individuals with communication difficulties, and I am so excited and incredibly proud to join the team!