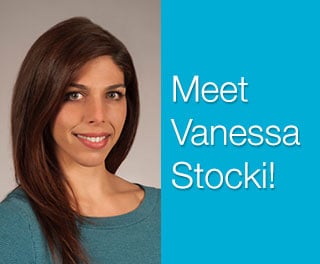 Vanessa began her journey as a Lingraphica Clinical Consultant in January 2017. She is from Caracas, Venezuela and currently resides in Miami, FL. Vanessa graduated from University of Central Florida with a Bachelors in Communicative Disorders, and from Florida Atlantic University with a Masters in Speech-Language Pathology. Read on to find out a bit more about the latest addition to our clinical consultant team!

Tell us a little bit about yourself: what do you like to do in your spare time, do you own any pets, what are your passions?
I lead a pretty active lifestyle and I love it. I started doing triathlons a few years back and became instantly passionate with the process and becoming a part of the community. When I am not running, biking, or swimming, I am spending time with loved ones. Having family that currently resides all over the world, I definitely try to cherish those I have geographically close to me! My boyfriend and I have a beautiful pup named Lola, who takes the majority of our attention when we are home and she knows it!

What did you do before coming to Lingraphica?
Before becoming part of Lingraphica's amazing team, I practiced as a speech-language pathologist in the hospital setting. I worked in a fairly large hospital in Miami for approximately eight years and was able to dedicate my time to patient care and the start of many programs, including stroke support groups and involvement with the Head and Neck Cancer Tumor Board. I absolutely loved being a therapist and through the years developed a passion for mentoring and training new therapists. I am also a Certified Life Coach and spent the last year developing skills to help individuals with personal development, career goals, and health/wellness planning.

What or who inspired you to become an SLP?
I used to tell the story that becoming an SLP was a total fluke; now older and wiser, I can attest to the fact that it was definitely meant to be. I was a political science major in college and halfway through, I realized I did not want to pursue this as a career. Frantic to try to find something I liked, I scrolled through the college catalog book and found a class titled "Introduction to Communicative Disorders" and thought I would give it a try. I can tell you that I was hooked from Day 1, but to add to that, I realized that I had several people in my life growing up that were affected by communicative disorders which I never knew much about. Throughout this course, my mind was completely floored by the amount of information regarding such disorders that would have helped me in understanding as well as assisting those I knew who were dealing with this. Looking back now, I guess you could say I was inspired by many without even knowing it!


You are an English- and Spanish-speaking clinical consultant. Do you see a need in the Spanish-speaking communities in Florida for AAC devices?
Spanish is my first language; we moved to the States when I was seven years old, and I grew up completely bilingual. Miami is a melting pot for different cultures, languages, and backgrounds—just one of its many appealing aspects! Working in a major hospital on Miami Beach, my days would be spent speaking approximately 70 percent Spanish/30 percent English. This included therapy, educating family members, and even speaking with other medical professionals. Spanish-speaking patients receive therapy in Spanish; they will most often speak Spanish to their family and loved ones, and these patients--once re-integrated into their daily routines--will predominantly speak Spanish throughout their community. Therefore, AAC devices in Spanish are essential for this population--a very large population at that!

Lingraphica is a mission-driven company that aims to help as many people with communication and speech disorders as possible. Do you have any personal goals for your work? What do you hope to achieve in your first year?
Transitioning from direct patient care tends to be a pretty big shift for a therapist; however the thought that I--with the help of my Lingraphica team--can reach individuals on a larger scale and make a positive impact on their lives is a huge drive for me. I hope to become a contributing factor to the Clinical Consultant team as well as assist in reaching as many individuals with aphasia as we can. I very much look forward to working with the Spanish version of the Lingraphica AAC devices to continue to open doors for the Spanish-speaking population!

What else would you like us to know about you?
I am very excited to have joined such a wonderful team of individuals working together as a team to make an impact on those affected with communication disorders throughout the nation!
Estoy muy orgullosa de ser parte de un equipo de individuales trabajando juntos para ayudar a esos affectados con desordenes communicativas por toda la nacion!