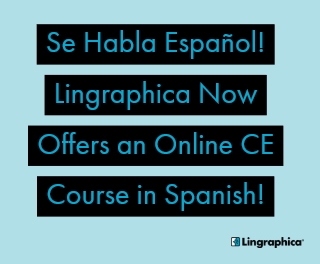 One of Lingraphica's new online courses offers Spanish-speakers an opportunity to learn about our devices, apps, and software options. We are excited to announce that we now offer our introductory CE course, eligible for 0.1 ASHA CEUs, in Spanish: Uso de Dispositivos de Comunicacion Aumentativa y Alterna (CAA), Aplicaciones y Terapia de Lingraphica (Using Lingraphica AAC Devices, Apps and Therapy)!
Lingraphica recognizes the need for increased accessibility to communication devices and software. Individuals from diverse language backgrounds are more likely to face challenges when seeking professional services. In offering this course presented in Spanish, we aim to tackle some of these barriers to diversity and inclusion by providing clinical resources for Spanish-speaking SLPs.
In this video course, our SLP Clinical Instructor, Angela Gamarra Rivera, walks attendees through the features, implementation, and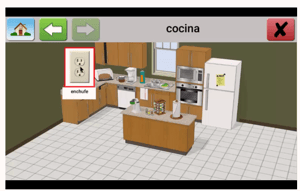 benefits of our AAC devices and software. The presentation covers an overview of AAC device use and provides the scientific background and clinical methodologies behind the design of our software. The course also includes an introduction and description of Lingraphica's free SmallTalk™ apps, the Quick Assess App, and our free online therapy program, TalkPath™ Therapy. The device icon to the right is an example of an image in Spanish from our "scenes" function, which depict everyday pictures that device users might find helpful in communicating.
If you are an SLP who works with Spanish-speaking clients, we welcome you to complete the course yourself and direct your clients and their family members to also sign in and watch the free course video to learn more about our devices and what they can offer. All of our continuing education courses are free, and they are registered and approved for ASHA CEUs. Check out our full list of CE courses available on our website!