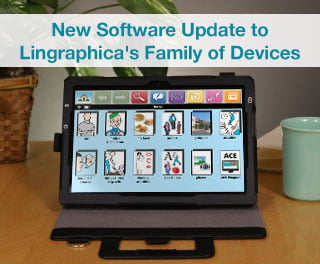 Lingraphica proudly announces our latest update to our device software! Find out what new feature we've brought to the AllTalk, TouchTalk, and MiniTalk.
As we often do at Lingraphica, we recently received some feedback about what users would like to see in terms of functionality with our devices. While each of our devices has more than 4,500 graphic icons programmed for use as soon as it's turned on, some device owners wanted to personalize the icons even further by having access to more icon image options.
Our developers researched some options and found that offering an internet search for specific images found on Bing would give our users the greater variety they wanted. Now, each time a user would like to create a new icon on his/her device, the internet image search tool allows the user to access Bing images to find the one he/she likes the best. For instance, a user who owns new car model, like a Tesla, can now find an image through an internet image search on the device. When creating a new icon, simply select "Choose Internet Image" when prompted to choose an image and then type in your desired word. From there, you can choose the image that you'd like to be your icon.
Check out this short video to see the Bing search update in action! NOTE: There is NO sound on the video below.
So what do people think of the new search option? Here are a few pieces of feedback we've heard so far:
"Being able to personalize a person's device is so critical to functional use. The new Internet Image Search feature allows users to create personalized icons using very specific images that they connect with and relate to. This is also very important to clients who rely heavily on the images for comprehension of the icon meaning. For example, if a person loves pancakes with peanut butter, they can now search specifically for this and find an image. Prior to the internet image search, they would only be able to access a generic picture of pancakes."
"It's really nice to be able to pull up photos of local restaurants or stores that aren't chains...you can find these through Bing searches on the device!"
"Our speech-language pathologist loves it! It takes the device customization to a whole new level!"
If your client has a device that does not have the internet search functionality, you can check your device for an update. To do this, follow the steps below:

Select the Orange Menu icon in the top-right corner.

Select "Settings."

Select "Update."

If you receive a message that says, "No new updates found," this means the program is updated to the latest version possible on your device. If you have any questions or concerns, feel free to call our Tech Support team at 888-274-2742.

Our developers work diligently to update our software based on feedback from clinicians and users to make our devices user-friendly, practical, and helpful in every way possible. Are you ready to start a device trial with one of your clients? Click the button below to get started!